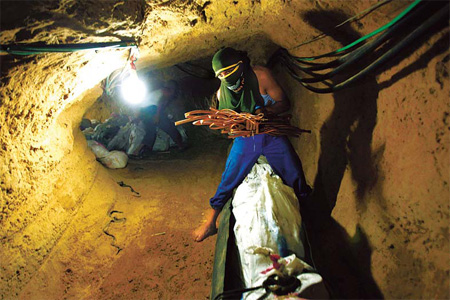 A Palestinian smuggler brings bags of scrap metal to Egypt through a tunnel in Rafah in southern Gaza Strip. Ibraheem Abu Mustafa / Reuters
JERUSALEM - The US envoy to the Middle East was heading to Israel on Tuesday to try to rescue Israeli-Palestinian peace talks brought to the brink of collapse by the resumption of West Bank settlement building.
George Mitchell's latest mission comes as the United States, which is brokering the talks launched on Sept 2, tries to prevent a walkout by Palestinian president Mahmoud Abbas, who says there is no point talking if Israel keeps building settlements on occupied Palestinian land.
Late on Monday, Israeli Prime Minister Benjamin Netanyahu and US Secretary of State Hillary Clinton held talks by telephone described by State Department spokesman Philip Crowley as "very significant, very detailed; very direct".
Crowley told reporters in Washington the talks built on the pair's discussions a day earlier, which had centered on the expiry at midnight on Sunday of a 10-month moratorium on the building of new settler homes in the West Bank.
"The prime minister understands what our policies are. We understand his political difficulties," Crowley said.
"We believe he's sincerely interested in the process and recognizes its importance."
Netanyahu's refusal to renew the moratorium has thrown the peace talks into jeopardy and has drawn widespread international criticism, including from the US, Britain, the European Union, France and the United Nations.
As bulldozers across the West Bank roared to life on Monday, Abbas said he would consult his Fatah movement and the Palestine Liberation Organization (PLO) this week and meet with Arab foreign ministers on Oct 4.
"After all these meetings we may be able to issue a position to clarify what is the Palestinian and Arab opinion on this matter," Abbas said.
The Palestinians have called on Israel to extend the moratorium for three to four months so that the two sides can reach an agreement on final borders that would clarify where Israel can continue building.
Netanyahu has refused to renew the partial freeze, but has urged Abbas to stick with the talks, which were re-launched after a 20-month hiatus.
Crowley announced that Mitchell was on his way to the region late on Monday.
"We recognize that, given the decision yesterday, we still have a dilemma to resolve," he said. "One way or the other the parties have to find a way to continue direct negotiations."
He praised Abbas for not immediately backing out of the negotiations, saying his "restraint at this point is appreciated".
Israel's hard-line Foreign Minister Avigdor Lieberman, meanwhile, said Palestinian negotiators had "wasted time" during the settlement moratorium but added that it was important to "keep the political process alive".
Agence France-Presse
(China Daily 09/29/2010 page12)