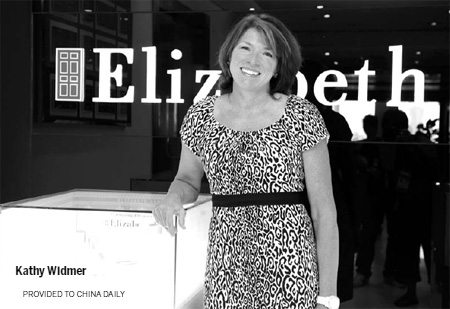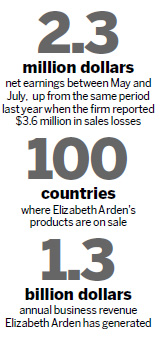 US perfume and skincare giant Elizabeth Arden Inc posted May-July net earnings of $2.3 million, up from the same period last year when the firm reported $3.6 million in sales losses.
Corporation representatives attributed the growth to emerging Asian markets.
"Our performance in China has been very solid," said Kathy Widmer, executive vice-president and chief marketing officer.
"We have been here since 2005, and we're growing at an average rate of just over 20 percent."
Widmer noted that China's middle class is expanding, bringing with it burgeoning sales opportunities.
"There's tremendous buying power among all Chinese," she said.
China now accounts for about 20 percent of Elizabeth Arden's business, according to Widmer.
"The Chinese market is incredibly important, and is the single highest global priority for our brand," she said.
Marketing strategies
Elizabeth Arden will celebrate its 100th anniversary this year. The brand's iconic Red Door perfume first appeared on New York City's Fifth Avenue in 1910.
Since then, the corporation has become a $1.3 billion enterprise, selling products in more than 100 countries. Its regional marketing head office of Asia is planned to move to Shanghai this year.
The move is part of a company strategy to get in touch with the needs of local consumers and gain firsthand experience in the Asian market.
"We chose Shanghai because it is an exceptional city with some of the best local talents. That's where growth will come from in our business," said Widmer.
"We are now much more tuned into the needs of our Asian consumers."
But the EVP noted that China represented a unique challenge. "There is not one marketing approach that suits the entire country," she said.
The company has already developed several products that will be released exclusively in Asia, including its White Glove skincare line.
"What is fascinating in Asia is the tremendous attention women pay to their skin care regimens," said Widmer.
"It is wonderful to participate in a market where consumers are so involved with our products."
Elizabeth Arden is currently focusing its China sales efforts on major city department stores.
However Widmer emphasized, "We recognize the tremendous importance and potential in second and third tier cities.
"We're in the development stage, and expect to have competitive growth in China in the future."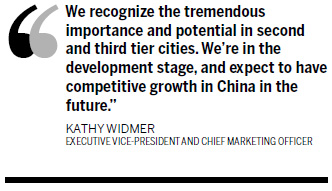 (China Daily 09/28/2010 page14)