New standards to define 'small business'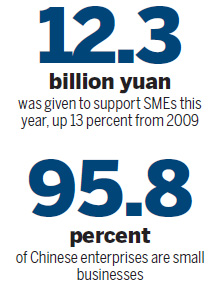 China will soon issue new standards to distinguish a small-sized enterprise from those classified as medium-sized, according to an official with the Ministry of Industry and Information Technology.
"The ministry has been working on the new standards and seeking opinions on their improvement. They will be submitted to the State Council for approval late this year," said Zheng Xin, a deputy director of the ministry's SME department and deputy director of CISMEF's secretariat.
"The new standards will cover many more industries and will draw a clear demarcation line between a small enterprise and a medium enterprise, and the concept of a mini enterprise will also be defined," he said on the sidelines of a recent press conference in Guangzhou

Today's Top News
Editor's picks
Most Viewed