As China's sports market continues to mature, corporate sponsorship is playing a more and more important role.
Popular sports, especially those Olympic sports in which China wins gold medals galore, such as table tennis and diving and even upstart golf, are winning sponsors' favor.
However, those not so familiar to Chinese fans and those sports that are not winning glory for the country continue to struggle to win favor from the sport's governing bodies, and are also being neglected by sponsors.
Cycling is one of those sports.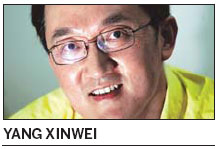 Though China has been and could still be the kingdom of bicycles, its athletes have never performed well at the Olympics. At the Beijing Games, 12 Chinese athletes took part in the cycling competition and they left empty-handed, with some of the young riders failing to even complete the road race.
The most famous Chinese cyclist is from Hong Kong but is trained by a coach from the mainland. Wong Kam Po became the first Chinese world champion when he won the 15-km scratch at the 2007 UCI Track World Championships.
The government supports many Olympic medal events, but some of them are not usually played by ordinary citizens, such as diving, gymnastics, weightlifting and shooting.
Meanwhile, games that many people play struggle for support and sponsors' patronage in the Olympic medal-oriented system.
Cycling in China mostly relies on government support while corporate sponsorship plays a much greater role in the sport in the West.
Dependence on the government means the limited funds and resources are used to achieve targets such as Olympic medals in specific events.
As more and more cycling events start to be held in China, and more Chinese start to realize their daily means of transport can also become an exciting competition, corporate sponsorship is starting to infiltrate the sport here.
Aiming to build its own version of Tour de France, the Tour of China kicked off last Friday in the ancient city of Xi'an with 108 riders representing 18 teams and people lined the streets to see the competitors.
Chinese TV broadcasters are still at the infant stage in bringing tour races live to their audiences, but their participation has provided some inspiration to officials and sponsors.
At the Tour of China, real estate giant Vanke shelled out more than 20 million yuan ($2.97 million) to become a founding partner of the event.
"We are sponsoring the event, and hope it become China's Tour de France some day and creates some Chinese cycling stars," Yu Liang, president of China Vanke Co Ltd, said of the company's biggest sports sponsorship ever.
"Comparing the Tour de China with Tour de France is a little bit far-fetched, but we do hope it will get off to a solid start through our efforts" Yu said.
"Hopefully, some day Chinese will love Tour de China as they love another French brand, Louis Vuitton. By then our efforts can be said to have paid off," Yu joked.
The author is China Daily's chief sports commentator, who has been following China's sports over the past 26 years. He can be reached at yangxinwei@chinadaily.com.cn.
(China Daily 09/16/2010 page22)