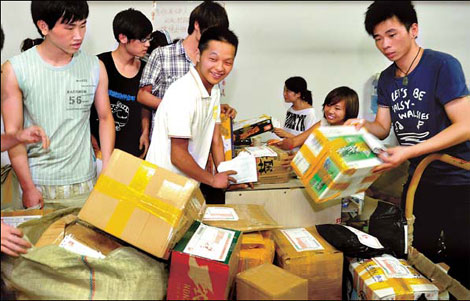 Students at a vocational school in Yiwu, Zhejiang province, work as part-time couriers for retail website, Taobao.com, during their summer holidays in July. Zhang Jiancheng / For China Daily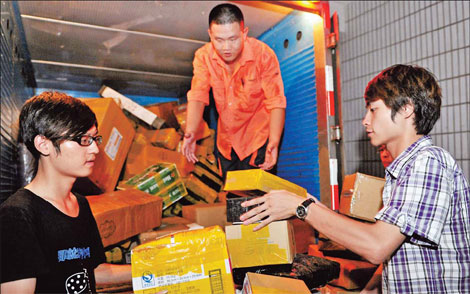 A group of students majoring in e-commerce at Yiwu Industrial and Commercial College in Zhejiang province load goods they sold online as part of an online business project. Several students decided to spend their summer vacation running a shop on taobao.com, a popular Chinese shopping website. Zhang Jiancheng / for China Daily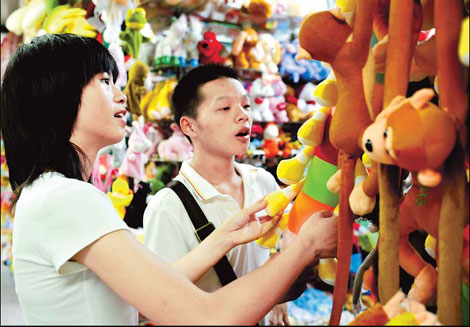 Two students browse for supplies to sell on their online store at the international trade center in Yiwu, Zhejiang province, Graduates were encouraged to start their own businesses to ease the burden on China's job market. Zhang Jiancheng / for China Daily
Financial and bureaucratic obstacles are in the way of college graduates opening their own businesses. Duan Yan and He Dan in Beijing report.
When the call went out for college graduates to relieve the pressure on China's struggling job market by starting their own businesses, Zhao Han was more than happy to answer.
He deferred his studies at the prestigious Renmin University of China for a year and began work on opening Yunhaiyao, a Yunnan restaurant he co-owns with three friends in Beijing's bustling Houhai area.
Yet, the transition from student to boss is proving far from easy for the 24-year-old, who said his efforts have been hampered by a business environment lacking in support for young, inexperienced entrepreneurs.
"I always knew there would be difficulties in running a business. But maybe I overestimated my ability in coping with the challenge," said Zhao.
More than 6 million college students entered the job market this year, joining the 800,000 still unemployed from the class of 2009, according to the Ministry of Human Resources and Social Security.
Since the onset of the global financial crisis in 2008, which resulted in a sharp decline in opportunities, universities and central government officials have urged graduates to launch companies.

Zhao, a guo xue (traditional Chinese culture) major at the time, was among a small number who took the advice.
Just 0.2 percent of 5.6 million students chose self-employment after graduation in 2008, according to the most recent data released by the China Higher Education Student Information and Career Center.
"The percentage (of self-employment in China) is still pretty low, compared to the average of 1 percent in developed countries," said Yu Jian, director of research at the career center.
However, he pointed out that the number of young entrepreneurs is likely much higher today "as many people branch out on their own after only a few years of employment".
The greatest challenge facing any new business is seed money, and research has shown Chinese graduates suffer a serious disadvantage in getting bank loans.
Despite preferential policies issued by the government to encourage banks to offer small loans to student startups, experts say complicated application procedures are preventing many from raising enough capital.
A survey of 4,000 student- and graduate-entrepreneurs in Jiangsu province by researchers at Soochow University this summer found that 62 percent listed funding as the biggest headache.
More than 78 percent said they relied on personal savings or help from friends and family for seed money, while less than 4 percent successfully applied for bank loans, according to a report by the Suzhou-based college's business school.
"Banks are cautious about lending to small businesses," said Yu, "and funds from charitable foundations are also limited as so many students graduate every year."
Foundations offering interest-free loans for startups also set strict application requirements, such as clear business plans.
"It's not really wise for graduates to just start their own business simply because they can't find a job," said Zhu Yongqing, a Shanghai-based project director for Youth Business China, which offers advice and interest-free loans of up to 50,000 yuan ($7,400) to 18-to 35-year-olds looking to start a business.
Zhu's office has agreed to roughly 40 loans since it opened six years ago. He said about 40 percent of the borrowers will be able to repay in three years, while 5 percent will settle the debt ahead of schedule.
When Zhao Han and his partners opened Yunhaiyao in late October 2009, they initially invested 1.5 million yuan, all of which came from friends and relatives.
"Who would loan you such an amount of money besides your own family?" said Zhao, whose three-story restaurant overlooks a 500-year-old Ming Dynasty bridge and costs about 100,000 yuan in rent every month.
"Some of my friends were unable to get loans, so they applied for credit cards to get the startup capital they needed," he said.
License to sell
Ask Zhao why he wanted to open a restaurant and he will readily admit a big factor was the prospect of taking vacations whenever he liked.
However, after enduring a tough first year in business, largely due to his partners' lack of knowledge about the industry, going on holiday is now the last thing on his mind.
After failing to get a business license from the local authorities before the National Day holiday, Yunhaiyao did not open until late October, thereby missing the annual tourist peak.
The long, harsh winter that followed also proved disastrous, despite many promotions to lure in customers.
"We were losing up to 6,000 yuan a day," said Zhao. "All we could do was read the weather forecasts and hope a rise in temperature would bring more customers."
Officials in cities such as Guangzhou, capital of Guangdong province, and Changsha, capital of Hunan province, have vowed to simplify the application process for business licenses, while in Beijing some fees are waived for recent graduates.
"It saved us a few hundred yuan, which is nothing compared to what we paid out originally," said Zhao, who complained that his biggest concern is the bureaucracy.
"The health bureau, the fire bureau, the labor bureau," he said as he counted on his fingers how many departments he has to deal with. "There are at least seven or eight."
Due to the difficulty in getting business licenses, college graduates who sell goods online or on the street often go without cutting down on the paperwork.
Li Qintao, a fashion design major who graduated from Shenzhen University in July last year, began hawking clothes to migrant workers outside factories in the Bao'an district of Shenzhen. All he has to pay is the occasional 10 or 15 yuan to set up his stall.
"Sometimes they're villagers who come for the money, sometimes they're street gangsters. They just turn up and collect the fee," he said.
With only 3,000 yuan in seed money, Li earned 500 yuan in his first month, which covered his apartment rent and bills.
"My parents want me to find a more stable job, to be a teacher or work for the government," he said. "I want to prove them wrong and be successful."
Starting early
Although money and licenses are hurdles that can be jumped, experience is a vital quality in business - and can prove to be the difference between survival and failure.
Before opening Yunhaiyao, the only experience its co-owners could draw from was when one of them worked for a month at Haidilao, a chain of hotpot restaurants across Beijing.
"We would have meetings but none of us would remember to write anything down for future reference," said Zhao, who manages a staff of 28. "There have been many lessons along the way."
Business has now picked up enough for the four friends to consider opening a second restaurant in Zhongguancun, an area known for IT companies and cheap electronics.
Youth may mean inexperience but 70 percent of the graduates involved in the Soochow University study agreed age is the biggest advantage in starting a business straight from college.
"Many graduates want to give it a shot while they're young," said Wu Yijia, a senior studying financial management who was part of the research team. "It feels cool to be your own boss and, if you fail, there's plenty of time to find a new career."
After a decade of giving advice to budding entrepreneurs, however, Zhu at Youth Business China disagreed.
"Owning a business requires multiple skills, such as in marketing, communication and leadership," he said. "Young people can often come up with novel thoughts but they should pay more attention to analyzing carefully whether those ideas are viable or not."
As well as offering startup loans, Youth Business China also helps young adults network with experienced business leaders to learn the tricks of the trade.
"I always tell (student clients) that the most important rule of business is to make money. It's not about how good an idea is," added Zhu.
Wannabe industry moguls can now hone their skills by signing up for the entrepreneurial education classes offered at universities across China, while many schools now run projects that encourage students to find creative business models.
"The help we offer used to be focused on seniors looking for jobs but now training starts as early as the first or second year," said Yu at the China Higher Education Student Information and Career Center.
And with so many graduates entering the job market every year, experts say the pressure on careers advisors is more intense than ever.
Universities are required by the Ministry of Education to allocate 1 percent of tuition fees to fund career services for students. However, many are failing to do so because of heavy debts.
In Hunan province, where high-level officials publicly advocated greater cooperation between education and labor ministries, colleges have built up a combined debt of 14 billion yuan, said Ouyang Zengtong, director of the provincial career center.
Most of the money was spent on construction projects to cope with increased enrollment, he said.
According to Ministry of Education statistics, college enrollment in China was about 3 percent in the mid-1980s, rising to 5 percent by the early 1990s. However, since 1999, when the central government introduced an enrollment expansion policy, numbers nationwide has increased steadily, reaching 24 percent in 2009.
"There are many problems ... and (the) education (system) is failing to keep up with the changing job market," said research director Yu. "But one obvious issue is that the supply of labor is much greater than demand."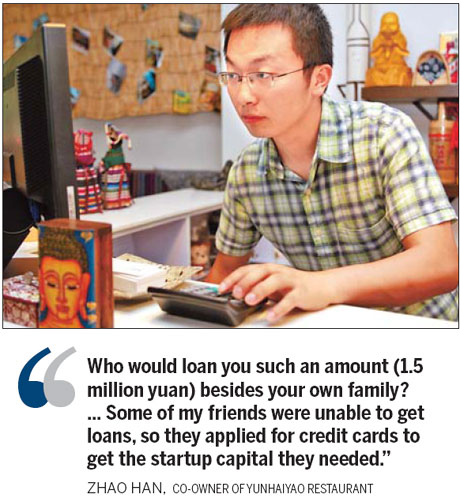 (China Daily 09/15/2010 page1)