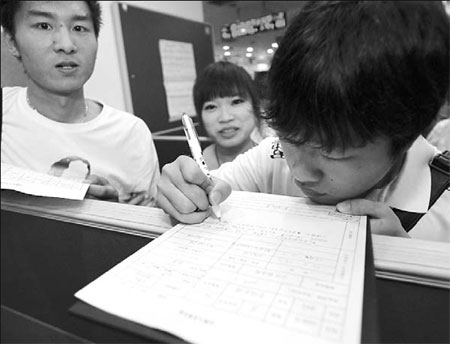 A college guaduate fills in a form at a job in Nantong, Jiangsu province. Multinational companies say it is difficult to find the right people, despite an increasing number of college graduates every year. Provided to China Daily
BEIJING - Multinational and overseas companies have problems finding Chinese employees with the right mixture of talents despite a dramatic increase in the number of university students, according to a new publication.
China Talents Development Report 2010, published by China Social Sciences Press, found that over the next three years, some 11 to 12 million Chinese students will graduate from universities but only 10 percent of them will meet the demands of multinational and foreign companies.
"To cultivate qualified cross-cultural graduates is an urgent task for all Chinese universities and colleges, and they have the responsibility and obligation to do so," Zhou Lie, president of Beijing International Studies University (BISU), said in an interview with China Daily.
There are nearly 500,000 multinational and foreign companies doing business in China. The demand for multi-talented staff in medium- to large-sized multinational and foreign companies will range from 2 to 3 million over the next three years.
"We advocate that cross-cultural multi-skilled workers should not only have a good command of foreign languages but also possess specialized knowledge," said Zhou.
According to the academic administrator, BISU is committed to cultivating students with a competitive advantage in foreign languages and specialized knowledge.
"Introducing China to the world - that was the initial purpose of the establishment of BISU," he added.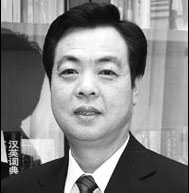 Zhou Lie, president of Beijing International Studies University (BISU).
The university, founded in 1964 on the recommendation of China's first Premier Zhou Enlai, has already developed into a multi-disciplinary educational establishment.
"As the cradle of cross-cultural multi-skilling, the universities and colleges themselves should first pay more attention to internationalization," Zhou said, adding that to host international conferences as much as possible can be an excellent way forward.
In the meantime, the university helps its teachers and students to travel abroad and engage in advanced studies.
"What we have followed is the international communication and collaboration pattern, and what we are advocating is 'taking in and going out' theory. We will try our best to make speeches on the international stage and we will also invite others to China to sing opera on our stage," he said.
Zhou maintained that universities have a duty to play a leading role in society. "There are three functions of universities: cultivating talents, scientific research and serving society. Since the nature of cultivating talents and scientific research is serving society, these three functions are inseparable," he said.
In addition, according to Zhou, social practice cannot be ignored in the cultivation of cross-cultural multi-talented graduates because students need time to relate to society at large and understand it before they actually enter it as adults.
He said his university had provided students with many opportunities involving volunteer activities and internships with businesses. "It's the cultivation of comprehensive abilities. Students should seize opportunities to practise from the very beginning of university life," Zhou added.
Students in BISU have taken an active part in all kinds of volunteer work. Since 2008, more than 4,700 students have devoted themselves to international events such as the Beijing Olympic Games, The Paralympics Games, the 2010 Shanghai World Expo and the Singapore Youth Olympic Games.
China Daily
(China Daily 09/13/2010 page17)