Nation at food security crossroads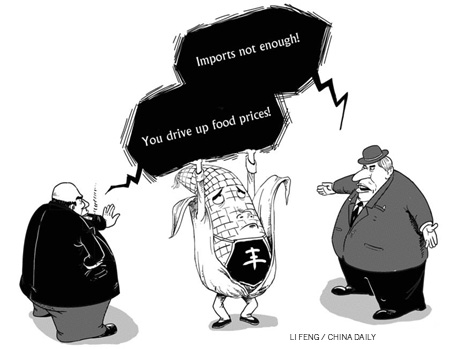 Efforts to ensure food security in China have so far been successful. The country has experienced more than three decades of sustained agricultural growth and significant reduction in hunger. Gradual agriculture-led reform in the late 1970s and technological breakthroughs, such as the development of hybrid rice, have led to large increases in agricultural output.
Although the importance of agriculture in the overall economy has declined in the past three decades, it has not been accompanied by a decrease in domestic food self-sufficiency. The country now accounts for about 20 percent of global grain production and less than 3 percent of the global grain imports.
But many in the international community have questioned the sustainability of China's self-sufficiency in food. Popular opinions suggest that China's growing food consumption cannot be met by domestic food supply. Some people have expressed fears that the increase in demand will lead to increased imports, higher prices, global food shortage and even hunger.

Today's Top News
Editor's picks
Most Viewed