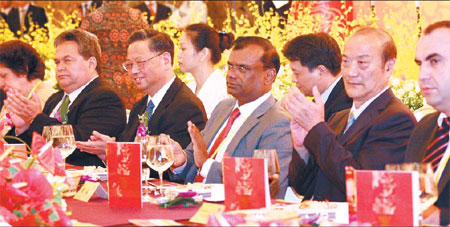 Fujian Governor Huang Xiaojing (center) and delegates from different countries attend last year's China International Fair for Investment and Trade.
Fujian Governor Huang Xiaojing urged the whole province to beef up efforts to better organize upcoming three events - the second WIF, the 14th CIFIT and the sixth Cross-Straits Tourism Expo, which will be held concurrently in early September.
"The three events put more pressure on preparations and security work," he said.
However, he noted, the successful hosting of the events will benefit the future development of the province, expand the influence of the Western Coast Economic Zone, and help the province gain more friends and investment opportunities.
He gave special demands for the three events.
Security should be given a high priority.
The events should be held with the most heightened security efforts.
Emergency preparation work should be strictly implemented.
Telecommunication facilities should be improved during the fair.
In a bid to lessen the pressure on air and railway traffic, the organizing committee should prepare emergency plans for the fair and better implement it.
The Quanzhou-Xiamen Expressway opened to traffic on Sept 2, and the installation and operation of escalators and handrails should be ready as soon as possible in Fuzhou Railway Station.
The organizing committee should enhance services for investment project negotiation to help investors achieve better results.
Publicity efforts should be enhanced to showcase the events and the construction of the Western Coast Economic Zone.
Provincial and city leaders Ye Shuangyu, Liu Cigui, Zhang Changping and Hong Jiexu reported the progress to Huang.
China Daily
(China Daily 09/07/2010)