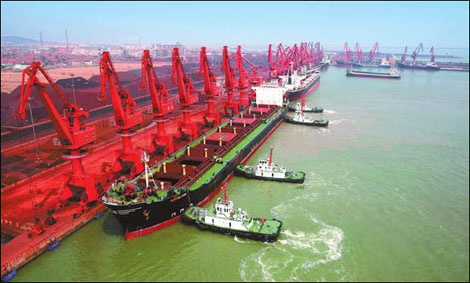 Ships ready to unload at an ore terminal in Rizhao Port.
At the southern end of Shandong Peninsula along the Yellow Sea, Rizhao is poised to be the eastern terminus of the so-called Eurasian continental bridge connected to Rotterdam in the Netherlands.
Such potential has not only fueled development of the port itself but also nearby industries.
Its near-port industries include manufacturing, high-tech, marine services and ocean fisheries.
"The rapid development of near-port industries around Rizhao make it a top city in southern Shandong," said Zhao Xiaowei, mayor of Rizhao.
A plan for developing the southern part of the province issued in 2008 by the Shandong government calls for near-port industrial sites for steel, petrochemicals, shipbuilding and paper making.
By 2015, annual steel production is projected to reach 21.35 million tons and generate more than 100 billion yuan in revenues.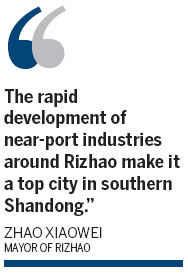 Plans also call for a 36 million ton crude oil pipeline linking Rizhao and Yizheng in east China's Jiangsu province and a 20 million ton line connecting with Dongming in southwest Shandong.
Together with large crude oil and petrochemical wharfs, the facilities will bring Rizhao's oil refining capacity to 10 million tons by 2015, which is projected to grow to 20 million tons by 2020.
Its papermaking sector produces wood pulp, coated paper and newsprint. By 2015, the city's capacity will reach 4 million tons, making Rizhao the largest papermaking center in China and the second-biggest in Asia.
The shipbuilding sector focuses on ocean transport ships, yachts and sports boats. By 2015, revenue generated by the sector is projected to reach 30 billion yuan.
Emerging industries include ocean biomedical production and ocean chemicals. By 2015, GDP generated by emerging industries are projected to reach 10 billion yuan.
High-tech electronic information, biologics, new materials and new energy are expected to generate 60 billion yuan in five years.
Part of Rizhao's efforts will also go to developing traditional industries including fisheries, grain, oil, food and wood.
By 2015, the output from fisheries is expected to reach a value of 23 billion yuan, while annual soybean processing will total 6 million tons and palm oil 3 million tons.
(China Daily 08/20/2010 page24)