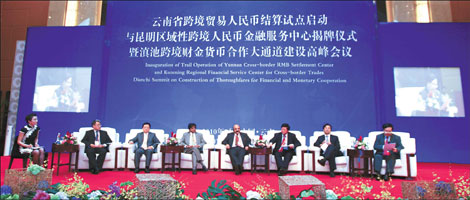 Delegates from home and abroad discuss regional financial cooperation at the Kunming forum. Photos by Qu Mingfei / For China Daily
Delegates to a recent Kunming financial summit agreed that Asia should reduce its dependence on dominant currencies during trade settlements. The move would promote the internationalization of local tender.
Il Houng Lee, senior resident representative of China's International Monetary Fund, said Asian economies used to depend largely on the United States and Europe. As a result, US dollars and euros are now commonly used for settlements.
"But in recent years Asia's intra-regional trade and investment has seen rapid growth," Lee said. "Improving settlement efficiency and capital mobility, as well as avoiding exchange rate fluctuation risks are now big challenges for Asia."
Lawrance Lam, president of the Royal Bank of Scotland, said he thought China made an important step towards internationalizing yuan in July 2009. At that time, the Chinese government announced administrative rules for cross-border renminbi settlement.
"Multiple currencies are needed in cross-border trade to effectively avoid foreign exchange risks," said Lam.
A cautious approach
Mushtaq Khan, chief economic adviser at the State Bank of Pakistan, said he appreciates China's rational approach to the internationalization of its currency.
"While the OECD is justified in its concern over the global trade imbalance, observers often forget that China is a developing country. It is still undergoing economic reforms," Khan said.
China's share of global exports grew from 3.6 percent in early 2000 to 10.7 percent in January 2010, prompting remarks by the OECD that the renminbi was undervalued.
"The issue is how to internationalize the renminbi in a controlled manner without disrupting manufacturing sectors. We need to make sure China does not create destabilizing capital flows that could complicate renminbi management," said Khan.
China initiated currency reforms in 2005. Appreciation of yuan against the US dollar is now 22 percent.
Cross-border settlement with yuan will help reduce financial losses, especially when renminbi appreciates, Khan said.
Pilot programs
A large cross-border trade region, Yunnan province is pioneering yuan settlement as part of a government pilot program.
"China plays a significant role in Asia's regional economy," said Gong Fangxiong, general manager of JP Morgan's Asian-Pacific branch.
He noted that Yunnan has advantages over other provinces when it comes to renminbi internationalization.
"Countries neighboring Yunnan know and trust renminbi, making its use in cross-border settlements natural," Gong said.
Khan added he was following the pilot program with "keen interest."
(China Daily 08/20/2010 page19)