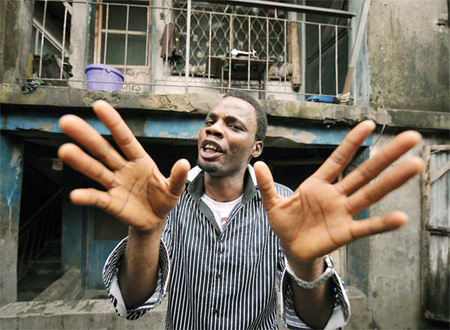 Twenty-eight-year-old musician, Vocal Slender, whose real name is Eric Obuh, sings at his ghetto home in Ajegunle, in Lagos. Pius Utomi Ekpei / Agence France-Presse
LONDON - Nigerian rapper Vocal Slender rose to fame as a Lagos rubbish scavenger featured in a BBC documentary, but has found reaching the top of the heap in the music business equally as tough.
The 28-year-old singer, whose is real name Eric Obuh, was due to kick-start his international bid for stardom in May as the main act at a show in London's prestigious 2,350-capacity IndigO2 arena, but pulled out in disputed circumstances.
Nigerian newspaper PM News reported that amidst a conflict between promoters, Obuh's passport mysteriously disappeared before he set off for London then turned up - but too late for him to make the IndigO2 show.
The charismatic vocalist did not confirm the reports in an interview with AFP during his six-week tour here, but said his next step is finding a manager.
"Life has changed, I no longer work on the dump but I did a tour in London which ended up in a little bit of a disagreement over the percentage," Obuh told AFP.
With a new gig set for London in September, he wants someone to help him pursue his dream without exploiting his poor background and lack of industry knowledge.
"Now I need a manager. What I need is someone who is positive and has flair, someone who has love, humanity and love for humanity.
"I need a record deal, I cannot be saying 'sir, sir' to a management company.
"I need someone who doesn't want to take advantage of me as a scavenger from the slum. A lot of people are trying to take advantage of me because they know I'm a little bit talented and they know I've not been to London before.
"There was a little bit of a misunderstanding but it is God's way of telling me to push further," said Obuh, now back in Nigeria.
Obuh's soulful spunk and business acumen came to the world's attention when the BBC first aired a TV documentary in April. Called Welcome to Lagos, it followed him searching for scrap on the huge Olusosun dump in order to fund time in a recording studio.
Viewers saw Obuh develop his Caribbean dancehall-influenced brand of rap and by the end of the show they saw Slender finally secure enough money to record his song Owo Yapa in a studio in Lagos' Ajegunle area, a simmering neighborhood at the center of Nigeria's burgeoning hip-hop scene.
As life mirrors art, the song is about someone making lots of money and is now an Internet hit.
"The environment that you grew up in convinces you to be someone in life," Obuh said. "In every human being there is talent and in Ajegunle we decide to look inside ourselves for that part."
The young Obuh grew up with relatives, and his early exposure to music came from listening to Shabba Ranks, Shaggy and Michael Jackson, while hustling on the streets to scrape together enough money to survive.
His focus and disadvantaged start in life put many of his American rap contemporaries' claims of hardship into perspective.
"With the American artists, the government are doing some positive things for their lives - not like in Africa. They may be poor financially but they have a very conducive environment to work with.
"In Africa we have no light, no good power supply, no good water supply, no good roads. You can't go to the studio."
Despite his desire to improve life in Nigeria, Obuh dismissed the idea of following Haitian-born rapper Wyclef Jean into politics.
"For now I don't think I'm going into politics, although I could be an adviser. I don't like to go into it because it is more deadly and it takes your freedom away.
"I don't want a police escort," he said. "If I want to have a drink I can go to a bar and buy my own drink. If I want my own beef I can go to the market and buy my own beef."
Obuh embarks on his next bid for British chart success when he performs as a guest of comedian Eddie Kadi at London's 20,000-capacity O2 arena in September, and sent a message to international fans who have been inspired by his story. "My message to everybody trying to survive in life is to stay positive," he said. "Have you ever seen them give an award to the most negative man in the world? No!
"Try! The almighty God will always come by your side but don't take advantage of the less privileged, even if you have the opportunity to."
Agence France-Presse
(China Daily 08/17/2010 page10)