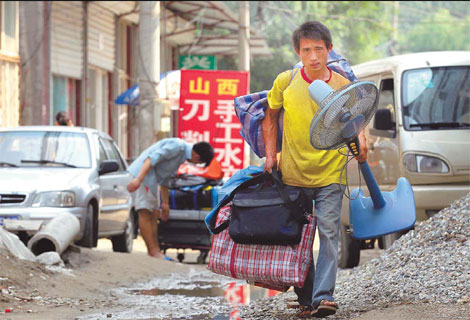 A man carries his belongings after deciding to move to Shigezhuang. Wang Jing / China Daily
Ants are famous for their ability to survive and so too is the group of Beijing residents known as the "ant tribe".
Tangjialing was, until recently, home to around 50,000 members of the ant tribe - low-income graduates, often born and raised in other cities.
When the village government in Tangjialing announced plans to empty and raze the community, members of the ant tribe relocated to nearby villages and resumed their old habit of living in extremely close confines.
Shigezhuang has since emerged as one of the major new ant tribe colonies.
Located next to the freeway to Badaling and about 3.5 kilometers north of Tangjialing, Shigezhuang is 6.5 kilometers north of the Shangdi Software Park where many ant tribe members work.
The sudden influx of ant tribe members has transformed Shigezhuang, creating business opportunities for locals and turning the once small and tranquil village into a massive construction site.
A villager surnamed Hao who has lived in Shigezhuang for 20 years, borrowed 700,000 yuan half a year ago to construct a six-floor building where his small home once stood.
Each floor accommodates nine 12-square-meter condos and a shared bathroom and kitchen.
He rents out each condo for 500 yuan a month - more than double what such a unit would have realized a year earlier.
Tenants have to pay their own utility bills, and Internet access cost them 40 yuan extra every month.
Hao and his family are optimistic that business will be good after the building opens for rent starting next month.
"I have six rooms reserved already from university graduates," he said. "When demolition starts in Tangjialing, more people will come here."
Hao hopes to recover his investment in two years.
Even without the approval of the village government, new buildings are being erected every day.
Workers are drilling and hammering amid piles of dirt and rubble that cover almost every road in the village and posters for vacant homes can be seen on every new construction site.
"You can see a five-floor building completed in two months," said Gao Yuan, a IT worker who moved to the village four months ago.
And despite the humble conditions, members of the ant tribe are grateful to find homes they can afford.
Pan Junyu, 24, a graduate from Luoyang, Henan province, moved to Shigezhuang last Saturday from Tangjialing. It took him less than half a day to pack and unpack all of his belongings, which include three bags of clothes, a fan and a laptop.
But even though he doesn't have many belongings, his new room was full after he unpacked his luggage.
"I make 1,600 yuan every month. A private room that is not too far from work is more than enough for me," he said.
"I wouldn't even dream about renting a two-bedroom apartment near my work, which would cost me 3,000 yuan, let alone buy an apartment."
The commute to work from Shigezhuang isn't as convenient as the one from Tangjialing, according to Pan. Before, it took him 20 minutes on his bike to get to Shangdi Software Park but now he has to take two buses.
Pan said friends from Tangjialing have also moved to villages nearby.
"I just hope not too many people will move here, otherwise the rents will go up and the bus will become overcrowded."
China Daily
(China Daily 08/12/2010)