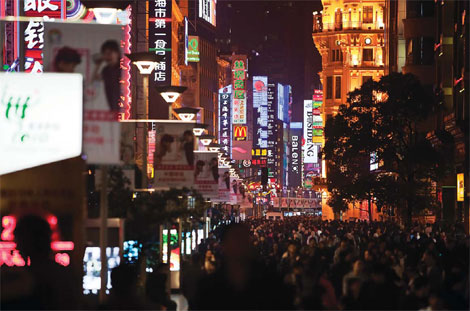 Writer Sun Ganlu is the chronicler of the life and times of Shanghai, a thriving, dazzling and economy-driven metropolis. Photos by Jonah M. Kessel / China Daily
The tension between his northern inheritance and growing up surrounded by southern sensibilities is an enduring theme in Sun Ganlu's writing. Chitralekha Basu reports
At first glance writer Sun Ganlu appears to be your regular high-flying corporate executive. Dressed in crisp formals he meets us in the boardroom of Shanghai Yizhou (Shanghai Weekly), a magazine about fashion, lifestyle and culture with an enviable circulation of 300,000 copies, of which Sun is the chief planning editor.
He fields questions with practiced ease, while resisting anything to do with his personal life, courteous yet firm.
His writings are, most often, as atypical as they could get. He might start off, as he does in the essay, Time Plays Its Tricks, with what looks like recollections of childhood and move on to a montage of images - from real life memories, old photographs, flashes beamed on a TV screen, scenes from the film You Belong To My Heart, whose beginning was adapted from the American jazz poet Langston Hughes' accounts of 1930s Shanghai.
By this time you might be seduced into thinking that the piece is, after all, a film review, which it is, at one level. But it is also a springboard to launch into Sun's pet theme - and probably a life-long preoccupation, if not his raison de etre - his relationship with Shanghai over the years, since he was born in the city in 1957.
"To an extent Shanghai is my whole world," Sun says.

But even as one who has lived practically all his life in Shanghai, Sun is also drawn to Shandong province where his parents came from.
"I like exploring the experience of being caught between two worlds," he says. The tension between his northern inheritance and growing up surrounded by southern sensibilities is an enduring theme in his writing.
His engagement with Shanghai is also about looking beyond it, trying to read its emotional-spiritual dimensions, its cultural and economic implications for the wider world.
A lot of what Sun has written so far is about trying to make sense of his place in China's bustling, thriving commercial capital. He is the chronicler of the life and times of a city where "people come from everywhere and remain perennially like a visitor, an immigrant". And his relationship with this bustling, thriving, dazzling, economy-driven metropolis is never easy.
To Sun, Shanghai is what Dublin was to James Joyce or Istanbul is to Orhan Pamuk.
Stylistically, Sun is closer to Pamuk. Like the Nobel-winning Turkish writer, Sun, even as he weaves an intense world of visual and auditory sensations around life in the big city, prefers to look upon this scrapbook of words and images culled from across recent history and the present time, with detachment, mixing information and philosophical musings, personal anecdotes and inter-textual references to Dante, Albert Camus and Martin Scorsese into an intoxicating brew.
His arrival on the literary scene in the mid-1980s was like a cloudburst of fresh ideas, that tickled and tweaked the conventional methods of storytelling, prodding the reader to work harder.
"In the 1980s I was not merely playing on words," he notes. "It was a unique way to reflect reality, rather than practicing escapism," he says.
A Visit to Dream World (1986) - about a poet who straddles centuries with one foot each in the temporal as well as the fictional world - made the critics sit up and take notice. It was as if Sun had created an alternate realm of words - a landscape of history, mythology and fantasy - daring the temporal world to match up to the indeterminate freedom of its imagined counterpart.
The Postman's Letters (1987) was a trailblazer. It cut across forms - poetry, fiction, philosophical treatise - turned the notions of defined plot and linear narration on their heads and came up with bizarre, post-modernist observations about life.
These, along with the novellas Invite the Ladies to the Guessing Game and As If, form a quartet that remain a milestone of Chinese avant-garde fiction in the 1980s, holding their own alongside the works of stalwarts of the genre such as Yu Hua, Bei Cun and Su Tong.
Sun concedes the quartet is his most representative work so far. "They created a deep and lasting impression on the writing that was happening in China at the time," he says.
And then Sun did a volte-face. He switched to a more realistic mode of storytelling with his novel Breathing (1990).
Similar experiments with narrative style may be found in ancient China, he says, citing Journey to the West - a compendium of unevenly structured allegorical adventure stories wound around Buddhist monk Xuanzang's journey to India. The shift in his own writing style, he says, "was inspired by the changing and more open social environment, as well as my personal preference to express myself in a more direct way".
In recent years Sun is more into writing non-fiction. His forthcoming book, due out this month, Slower than the Slowest, is a collection of articles, including reviews of books, movies, and critical analysis of recent social and cultural phenomenon and events.
As was his last, Nothing to Do Today (2009), its title was inspired by Louis XVI's comment in his diary on the morning the French Revolution broke out.
"Sometimes we are limited in understanding contemporary realities and the momentous events happening in our own time and close at hand often elude us," Sun says.
Many of these essays were originally published in Shanghai Yizhou. An editor's role seems to fit this once writer of experimental fiction rather well. In fact, he says it's been a learning experience. "Rather than me bringing new elements to the magazine, I am the one who has picked up skills from my young colleagues," Sun says. "Besides it's my way of finding out what the new generation is thinking."
Sun probably has a major surprise lined up for his readers in 2011. He is at work on a long novel - his first in several years - about which he is extremely tight-lipped. But knowing him, his readers could be forgiven for expecting him to reinvent himself, all over again.
Even as tales of early 20th-century Shanghai, steeped in romance, intrigue and colonial history, continue to enjoy a steady market, internationally, Sun is trying to capture its hidden philosophical landscapes and less conspicuous human elements.
"I am more concerned with people's lives, the hardships, the complexities and the city's impact on the individual the question as to what the difficulties are and at what cost are we earning our time and life in this city."
Personally, he would have preferred to live in 1970s-80s Shanghai. "I do not like the idea of living in comfort in a congested city, I feel the need for more space, like I would prefer to talk to two to three people in an intimate circle rather than be part of a group chat."
For a man whose first job was delivering letters, Sun has come a long way.
"I was young then, under 20. Whatever one does at 20 is precious and being able to write it down even more so," he says. "Now life may be less about struggle and more about convenience, but nothing compares to being young."
He Wei contributed to this story.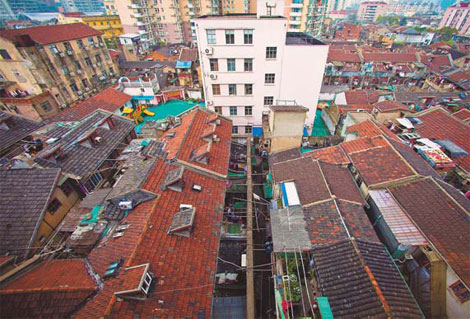 Traditional shikumen houses bear witness to the rapid changes of Shanghai's skylines over the past few decades.
(China Daily 08/09/2010 page22)