Science and technology firms benefit most from the trend
HONG KONG - China has been granting patents protecting new science and technological products to mostly private companies over the past 10 years, according to a study published on Friday.
Applications from individuals dominated China's patent system before 2001 but this has changed with the entry of foreign companies, new Chinese startups and joint ventures involving Chinese and foreign partners.
"There's been an explosion of contributions by private enterprises that overtook contributions by individuals, which was dominant before 2001," said author Kenneth Huang, assistant professor of management at Singapore Management University.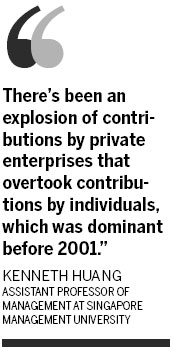 "This is because of higher sophistication and rising costs with applying for patents especially in science and technology."
Chinese academics, who frowned on commercializing their work in the past, are getting in on the action too. Universities were granted 2,049 patents in 2006, up from 118 in 1996.
"In the life sciences, IT, professors are seeing the benefits (of patents) ... universities will get more revenue from selling patents or having startups," Huang said.
According to Huang's paper, published in the journal Science, China awarded more than 1.1 million patents covering 129 types of products from 1986 to 2006.
Of these, 200,000 covered 12 science and technology classes.
In 2006, China awarded 19,198 patents covering these 12 classes to private companies, up from a mere 995 in 1996.
Individuals were awarded 9,324 patents in 2006, up more moderately from 2,530 in 1996.
Mainland companies secured 58 percent of all patents given out from 1986 to 2006 in these 12 classes. Japanese companies took 12 percent, followed by Taiwan with 11 percent, the United States with 7 percent, South Korea 3 percent and Germany 2 percent.
More patents were also being granted to companies in Central China instead of traditional strongholds like Beijing, Guangdong, Jiangsu, Shaanxi, Shandong, Shanghai and Tianjin.
"We see a geographic diffusion of innovative capacity from coastal cities ... to central, inner regions," Huang said. "There is an increase in indigenous capabilities. Multinational corporations are moving inland because of higher costs along the coast and there is a spillover of knowledge inland."
Reuters
(China Daily 08/07/2010 page4)