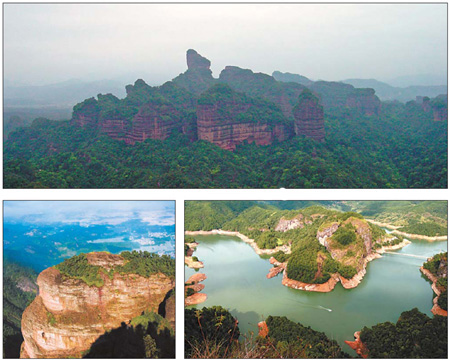 Clockwise from top: Mountain Danxiashan in Guangdong province, Taining in Fujian province and Mountain Chishui in Guizhou province. Yang Wanjing / for China Daily Zhang Shaoming / for China Daily Jiang Kehong / Xinhua
Related video:Danxia receives world recognition
BEIJING - The UNESCO World Heritage Committee decided to include the China Danxia Landform in the World Heritage List at its 34th meeting in Brasilia, capital of Brazil, on Sunday.
The addition pushed the number of China's world heritage sites to 40, including 29 cultural heritage sites, seven natural sites and four cultural and natural heritage sites.
"The Danxia Landform of China" is the general name of a serial nomination for World Natural Heritages.
The nomination consists of six geologically-related Danxia Landform areas, which collectively feature outstanding universal values of Danxia geomorphology in Southeast China.
"It is a thorny process for the Danxia Landform to be added into UNESCO's heritage list," Wang Zhiguang, deputy director of the construction department of Central China's Hunan province, was quoted by China National Radio as saying on Monday.
"It takes time for the panels from the World Heritage Committee to accept the new idea that six well-bound areas are applying for the world heritage status together," Cai Xiangfen, deputy director of the managing committee of Mountain Longhushan in Jiangxi province, said.
The six Danxia Landform areas are: Mountain Langshan and Mountain Wanfoshan (Hunan province), Mountain Danxiashan (Guangdong province), Taining and Guanzhoushan (Fujian province), Mountain Longhushan and Guifeng (Jiangxi province), Mountain Chishui (Guizhou province), Fangyan and Mountain Jianglangshan (Zhejiang province).
Danxia Landform, a unique type of petrographic geomorphology, could be defined as "landform consisting of red bed characterized by steep cliffs". The total core area of the landform is 73,945 hectares.
Nestled in the Songshan Mountain of Central China's Henan province, the historic architectural complex of the Shaolin Temple was also added to the UNESCO World Cultural Heritage list on Saturday.
The UNESCO World Heritage Committee, during a 10-day meeting in Brasilia that concludes on Tuesday, has already added or extended 17 other sites to the list, bringing the total number of sites around the world with the prestigious stamp to 910.
China's efforts praised
A senior UNESCO official has said China is a country making big progress in heritage protection.
Jing Feng, director of the Asia-Pacific regional department in UNESCO's World Heritage Committee, said in a recent interview that China had sped up efforts in heritage protection during the process of world heritage application.
Jing has witnessed recently more world heritage applications than at any point during his 20-year career in heritage protection and management.
Although economic interests are a major concern for many countries, there are countries that do consider it a kind of self-identity of their own cultures to feature in the list, Jing pointed out.
China became a member of the World Heritage Convention in 1985. The convention has not only improved the amendment of China's Law of Antiquity Protection but also helped China in the protection of cultural relics.
Jing said marked improvement could be seen in both heritage protection policies and public awareness in China. For example, China has started celebrating its Cultural Relics Day since 2006.
"Successful application is the first step of the long march. The ultimate purpose of the convention is to better protect those heritages on the World Heritage List and pass them to future generations without damage," Jing stressed.
Xinhua contributed to this story.
China Daily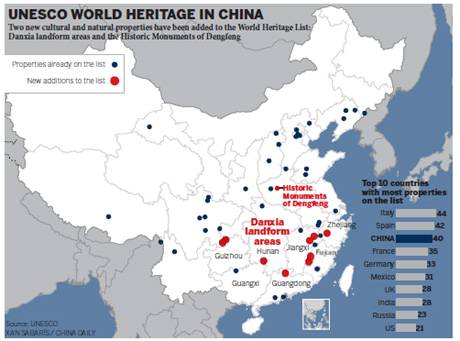 (China Daily 08/03/2010 page3)