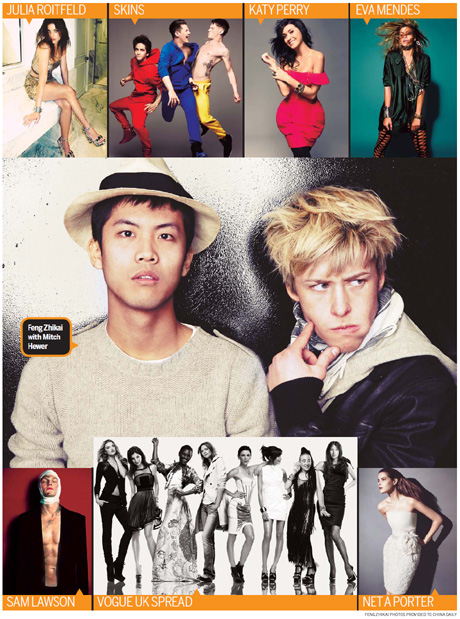 According to Feng Zhikai's "fashion Bible", Chinese designers should not blindly follow the West, but listen to their hearts. Gan Tian reports
Feng Zhikai works with the world's supermodels and is known internationally as a leading light of the Chinese fashion industry. But, he isn't that well-known in his home country.
Part of the reason why is that the Shanghai-born fashion photographer is based in London and spends much of his time jetting off to the major fashion capitals of Paris, New York and Milan.
The 28-year-old recently covered New York Men's Fashion Week and completed a series of photos for Vogue UK with stylist Miranda Almond.
He is a fan of the best brands and they like him just as much. His list of clients includes Hugo Boss, Burberry, Lacoste and Next.
Kate Moss, Anna Friel and Alexa Chung are just three of the top models he has done photo shoots with.
He is also a regular contributor to international fashion magazines, such as Vogue Italia, Ten Magazine and GQ.
"I never expected to be involved in the fashion industry," Feng says.
Though born in Shanghai, Feng was raised in Hefei, capital of Anhui province, where his parents taught at Anhui Fine Art College.
Naturally, he developed an interest in painting and took the opportunity to study art in London when he turned 18.
He planned to become a graphic designer but fate intervened when he did a graduation project in 2007.
His intention was to take pictures of beautiful faces and paint them, so he contacted Select Model Agency and shot a series of photos.
To his surprise, the company liked the photos so much they posted them on its website so clients could select the models they wanted.
Georgina Hodson, senior editor with the male fashion magazine Arena UK, was impressed and gave Feng his first assignment as a fashion photographer.
"It was a fashion collection story. I tried to make the clothes and accessories look interesting, highlighting their best qualities. These photos quickly spread and then GQ Italy contacted me," Feng says.
He became a favorite of models after the unknown Georgia Frost did a photo shoot with him. One picture made the cover of The Independent newspaper, which described her as a "future star".
Frost was grateful and in return introduced Feng to Gucci and Dolce & Gabbana.
Building on a reputation for making stars of the unknown, Feng photographed Daisy Lowe and Pixie Geldof, who are now among the world's top models.
"People were saying that any model who appears in a Feng fashion shoot must be a good one," the photographer says.
"The point is a good fashion photographer puts his feelings into the photo and can reveal the model's style and personality."
Fashion critic Andrew Chen is a fan of Feng's work and wrote: "Everyone must be envious (of Feng), who presents the most gorgeous women and men in the world in such a spectacular way that it makes us excited about our own passion for life."
Despite, or perhaps because of his success, Feng says he feels he is under pressure.
"I feel frustrated sometimes. UK fashion magazines have no responsibility to promote a foreign photographer. They prefer to use their own models, photographers and editors."
He says he often meets people who criticize China. "Some people think there was no fashion in China before me, so I show them photos and tell them stories."
Though famous abroad, he is not well-known in the country he calls home and few Chinese fashion labels or magazines have featured his work.
Vogue China editorial director Angelica Cheung is an exception. She is proud of the fact that Feng has worked solely for her magazine in the mainland.
Vogue China's June issue describes him as a photographer "who tries hard to express a Western angle and beauty to Chinese readers in his photos".
Beijing-based fashion photographer Mei Le calls Feng "the first Chinese fashion photographer on the international stage".
Feng is happy to stand out and believes it is his mission to promote the Chinese fashion industry.
"China is growing more powerful in terms of fashion. I don't think we should blindly follow Western trends and this thinking is part of my fashion Bible," Feng says.
He's now working on his own collection, which will feature work from young Chinese designers and promote homegrown talent.
"Since I am so involved in Western fashion circles, I think I can be a trendsetter for the young Chinese."
(China Daily 08/01/2010 page14)