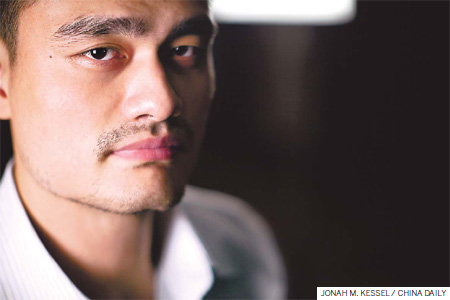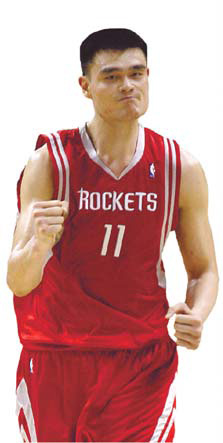 Video: exclusive interview with Yao
China's most spectacular sportsman is learning the rules of engagement in some very different ball games - charity work, family and budding entrepreneurship. Yu Yilei reports in an exclusive interview
A locker room meeting started it all. It was March 2007, and Phoenix All-star guard Steve Nash had stepped up to Yao Ming after a regular NBA season's game. Nash asked Yao Ming if he would like to co-host a charity basketball game in China in aid of children living in poverty-stricken areas. Yao Ming hesitated. He had no previous experience running such an event and he was unsure. But Nash persevered and started piling him with information. "I was shocked and ashamed that a foreigner knew so much more about China than I did," Yao recalled during an exclusive interview with China Daily recently.
Six months later, their locker-room encounter had resulted in a sold-out basketball game that showcased eight NBA star players and the Chinese National Team at Beijing's 6,000-seat Shougang Gymnasium. Together with a star-studded charity banquet held a day before the game, Yao and his teammates raised 17 million yuan ($2.5 million) through ticket sales, auditions and donations.
The money came in just in time. The following year, donations to the Yao Ming Foundation made possible the building of several schools in Sichuan after an 8.0-magnitude earthquake rocked the province in May. The charity also established more schools in rural Yunnan and Gansu provinces.
It was not until then that Yao, China's richest and most influential sports figure, realized he could use his enormous public appeal and the knowledge he had gained from his days abroad to help his countrymen.
Those around him were equally supportive, especially his Houston Rockets teammates - most of whom were active in charity work.
Retired All-star Dikembe Mutombo was a personal inspiration. He persevered more than a decade to raise funds to build the $29 million Biamba Marie Mutombo Hospital and Research Center in Kinshasa in the Democratic Republic of Congo.
"When I was in Houston, I took part in some charity activities with the team, and that made a deep impression on me. These activities gave me a sense of satisfaction," Yao said last Thursday in a press conference for his latest fund-raiser in Beijing.
"That's why I want to do something for my country, for children in China's rural areas who really need help."
To him, his eight years in the NBA not only taught him how to become a better player on the court, but also a better person off the court.
"Only if the whole league becomes better can the single team become better. It works the same way for charity work. By helping others and showing them the love, you yourself can be lifted to another level," he said, articulating a personal practice of American social entrepreneurship laced with Chinese philosophy.
For the charity game on July 24 in Beijing, Yao played host from the sidelines because he was still nursing a career-threatening injury to his left foot. The game was held at the 18,000-seat National Stadium, which hosted the gymnastics and handball competitions during the 2008 Olympics. The event was also re-named the Yao Foundation Charity Tour to highlight his involvement. The second leg of the tour was another game in Taiwan on July 28.
In all, Yao raised close to 50 million yuan ($7.3 million) from the Beijing stop, almost three times the amount he got three years ago.
"This is a very positive message. For people like us living in the big cities, we have the responsibility to help," Yao said. "The ultimate goal is to have more people joining us."
There is now an even deeper meaning to his charity work as he starts his own family. His first child, a baby girl, was born in May.
"I hope I can educate my child through what I've done with the foundation so she will learn to care for and help other people when she grows up," the new father said with a smile. "I believe what I am doing today is a great help to her growth."
Yao faced a lot of pressure organizing the charity tour this time round. He had to battle time as he fought to get fit again for competitive basketball with the new NBA season less than three months away, and he had to take a break from his rehabilitation training in the US for the tour.
Being a celebrity fundraiser is just one of the new roles Yao has taken on in the past year. He is also the proud new owner of the Shanghai Sharks, a Chinese Basketball Association team he once played for.
His main concern now is to strike the perfect balance between getting back his best form on the court and achieving success off the court.
Before traveling to Beijing to launch the charity tour, he visited the Sharks' Meilong training camp in Shanghai to check out the team's progress.
"Thankfully, I have a good team now. But that does not mean I can stand aside. I listen to reports regularly and give them my ideas, I have my thoughts and I want to realize my dreams."
Although he is already looking forward to future plans, Yao insists basketball is still his main priority and passion.
"Basketball gives me infinite pleasure and I hope I can enjoy it as long as possible."
(China Daily 08/01/2010 page1)