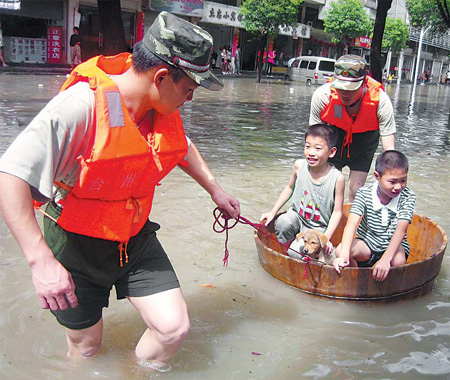 Rescue workers help two boys and a dog to safety from a flooded street on Tuesday in Taizhou city in East China's Zhejiang province. Li Jinxiong/ For China Daily
LUANCHUAN, Henan - A raging flood, a bridge breaking and his son screaming were all Hao Xingguo, a villager from Tantou town of Central China's Henan province, could remember about the weekend.
From a hospital bed, Hao, who is in his late 20s, kept asking about his wife and son, who have not been seen since the village bridge collapsed three days ago due to a surge in a flood-swollen river.
On Saturday, Hao's family, along with dozens of villagers, went to the Yihe River Bridge in Luanchuan county of Luoyang to watch the flood approach, only for it to swallow most of them when the bridge collapsed at 5 pm.
"In a second, everything was flooded. All I know is that I held on to a tree and never let go," Hao said.
He was saved on Sunday morning after spending an entire day submerged in water, hanging on to the tree.
As of Tuesday night, at least 50 people were confirmed dead in the collapse, China News Service reported.
An initial investigation found the dilapidated bridge collapsed after fallen tree trunks became stuck under it, blocking the passage of the raging floodwater, according to Luoyang local officials.
The local government said it would continue its investigation, warning that there would be severe punishments if any negligence was involved in the bridge collapse.
Meanwhile, a landslide caused by rain in Sichuan province left 21 people missing, adding to the growing death toll from the country's worst flood season in a decade.
About 100,000 cubic meters of rock and mud slid down Ermanshan Mountain near Shuanghe village, Hanyuan county of Ya'an city, at around 5 am on Tuesday, smashing into three brick houses at the foot of the mountain, local officials said.
Armed police combed the rubble and found three survivors. They also helped relocate thousands of villagers.
Heavy rain has recently pounded large swathes of central and southern China, swelling key rivers, flooding towns, causing landslides and mud flows.
As of Tuesday, a total of 333 people have been killed in rainstorms and floods across the country since July 14, while 300 others were reported missing, the Ministry of Civil Affairs said.
Another landslide on Saturday killed six farmers in Qiaoergou village in Shanyang county of Shaanxi province and left 20 others missing, local officials said.
Liu Mingquan, deputy director of Shanyang county press office, said on Tuesday that 26 farmers were buried by a sudden mud-rock flow that occurred on Saturday as a result of heavy rain last week.
In Hubei province, the transit of vessels through the Three Gorges Dam on the Yangtze River had been suspended since Monday, as engineers at the dam brace for the second peak water flow of the year, a Changjiang Three Gorges Navigation Administration official said on Tuesday.
The shipping service will resume once the water flow falls to a rate of 45,000 cubic meters per second from 48,5000 cubic meters per second at 8 am on Tuesday.
More torrential rain is expected for the southwest, southeast and northeastern parts of the country in the coming week, the National Meteorological Center said.
Xinhua contributed to this story..
China Daily
(China Daily 07/28/2010 page3)