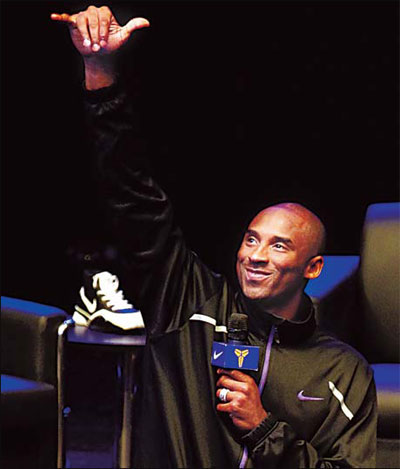 American basketball star Kobe Bryant waves to members of the audience before the start of a television talk show in Beijing on Monday. The superstar guard is on a China tour, organized by his sponsor, Nike. David Gray / Reuters
Visiting All-star enjoying his summer of leisure after winning a fifth NBA title
BEIJING - The spotlight this NBA summer has been focused on Miami Heat's big three of Chris Bosh, Dwyane Wade and LeBron James
Meanwhile, Kobe Bryant of the champion Los Angeles Lakers has been happy to stay in the background after undergoing successful arthroscopic surgery on his right knee.
On Monday, during the Beijing leg of his Nike tour, the five-time NBA champion said his goal remained the same - to win the NBA title again.
"Another NBA championship ring next season is the biggest motivation for me," Bryant told China Daily.
"It's the same for us every year. We (the Lakers) will not change much. We have the unity and the majority of the team is the same. So, it's the same goal for us every year."
The 2009 and 2010 NBA Finals MVP battled a knee injury and finger problems last season but still shone during the playoffs to lift his fifth championship trophy.
A more healthy and confident Bryant will be back next season after having an "easy summer", without any training.
"The training plan for this summer has been pretty easy. Pretty easy is to do nothing," Bryant said with a smile. "The hardest thing for me to do is to do nothing.
"I have always got to be working and pushing myself. This summer is really the best training for me - to do nothing. The body needs rest and the injury has to heal. You have to recharge your body and get ready for next season. So in lots of ways, this is the hardest training for me."
Asked if he would like to be a coach or a manager after he quits playing, Bryant responded negatively.
"Me? No. Absolutely not. No, no, no," Bryant said, shaking his head. "I can say never, ever, ever ... I'm 99 percent sure I will never ever be a coach.
"Being a coach is too frustrating for me. I like coaching kids and holding training clinics for the kids. But to be a coach from the regular season to the playoffs ... I have no interest at all."
Kobe-mania in China
This is the fourth time in four years that Bryant has visited China, where affection is lavished on him everywhere.
He is mobbed wherever he goes.
He also appears in commercials and on billboards, has a popular website and blog and had a reality show on Chinese television.
He also is involved in the Kobe Bryant China Fund, which partners with the Soong Ching Ling Foundation to raise money in China for education and health programs.
He sells more NBA jerseys here than Yao Ming.
However, Kobe is modest about his huge popularity.
"I am very fortunate. I just come here and walk with open arms," he said.
Kobe is also impressed by China's love of basketball.
"I can see the passion from Chinese fans. Even when I first came here, I could see how they loved basketball," he said.
"For me, I'm so excited about their passion for the sport. So I like to come to China. I am doing the camp and clinics and that's been going on for years now.
"I hope these kids follow their dreams. Whatever you want to do, follow your dreams. It's not going to be easy, but just keep working hard and never give it up."
China Daily
(China Daily 07/27/2010 page24)