Washington balances India, Pakistan in Afghan efforts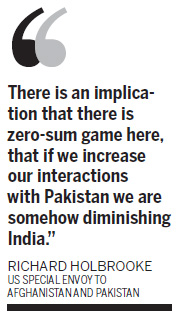 NEW DELHI - India has a legitimate role to play in stabilising Afghanistan but peace can not be brought to the region without help from its nuclear-armed rival Pakistan, US envoy Richard Holbrooke said on Thursday.
Successfully balancing the competing interests of the two countries, who have been jockeying for influence in Afghanistan for years, has been a challenge for the United States, but both are seen as key to improving the region's security outlook.
India fears an Afghan plan endorsed by global powers this year to win over Taliban foot soldiers will give rival Pakistan, which holds sway over the militants, a greater say in the Afghan peace process and may ultimately lead to a Taliban takeover once Western forces leave Afghanistan.

Today's Top News
Editor's picks
Most Viewed