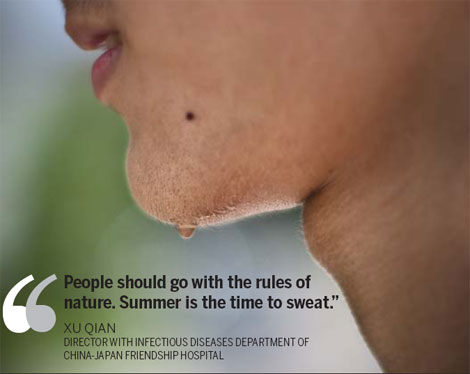 Doctors caution against spending long hours in air-conditioned room, which they say could lead to a higher incidence of coughs, colds and even pneumonia.
As the summer temperatures rise, air conditioners become the number one option for most people to escape the heat.
But long hours of sitting under cold wind from air conditioners might cause health problems, according to Xu Qian, director with infectious diseases department of China-Japan Friendship Hospital in Beijing.
"People should go with the rules of nature. Summer is the time to sweat," says Xu. "It's a natural process for the body to respond to the outside environment, and adjust itself through the constricting of blood vessels, and nerves. In this sense, air conditioning is a reactive restrain of the body against nature."
As the body tries to continually adjust between the outside and the cool air-conditioned indoor environment, Xu says the temperature compromises people's immune systems, and gives diseases a chance to flourish.
Xu's hospital has witnessed increasing cases of colds, fever and pneumonia during the summer, many of which are related to the use of cold air conditioning, according to the doctor.
"Air conditioning might induce infection of the upper respiratory tract, cause colds, throat pain, pharyngitis, and even pneumonia," says the doctor. "Besides, temperature differences can aggravate rheumatism among old people, and trigger some problems among children."
Xu says people's health is a dynamic balance between their immune system and pathogenic factors.
While air conditioning is not a problem for healthy young people, it can decrease the efficiency of the immune system and cause problems for old people, young children, and office workers who rarely see sunlight.
Xu warns that direct air from the air conditioner can be an especial burden on the body.
At the same time, air conditioners should be cleaned and disinfected regularly to avoid contamination, as also humidifiers and showers.
To avoid such problems, Xu suggests people do not turn their air conditioners too low, although she says it also depends on individuals' health conditions.
"Room temperature should not be more than 10 degrees lower than the outside," she advises. "Normally 26-28 C is okay."
The doctor also suggests regular ventilation to avoid feculent air. Besides, people sweat a great deal in summer, which also lowers the body's resistance to illness. Therefore people should replenish water and salt. However, drinking a lot of water will lower the density of acid in the stomach, and lower immunity to bacteria and virus. So be careful of diarrhea caused by cold salads.
On the other hand, Xu strongly recommends regular physical exercises, especially outdoors, to get some sunlight, and enhance the body's immunity.
"People who sit in the office all day should stand up and walk around at least every one hour, to give the eyes some time to rest, and the body time to relax," the doctor says. "If you find it difficult to take time to do exercise, walk to work, and take the stairs instead of taking the lift at home and at your workplace."
China Daily
(China Daily 07/21/2010 page19)