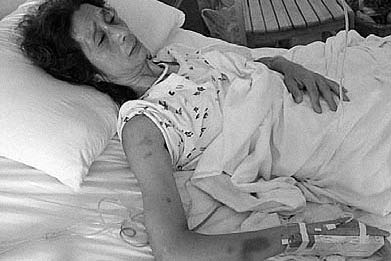 Chen Yulian, the wife of a local official in Wuhan, Hubei province, recuperates in a hospital ward after being beaten on June 23 by plain clothes officers who mistook her for a petitioner. Photo from online BBS
Official's wife seriously injured by police in case of mistaken identity
BEIJING - The wife of a senior law enforcement official in Central China's Hubei province was seriously injured by plain clothes police officers who mistook her for a petitioner.
Chen Yulian, 58, said she was beaten on June 23 by six unidentified men who rushed out of the gate of the provincial Party committee's office building when she was trying to call a high-ranking law enforcement official for permission to enter, according to a report by Guangdong-based Southern Metropolis Daily on Tuesday.
Chen told the attackers that she is a family member of an official of the provincial Party committee and asked them why they hit her. Her question received no verbal response, but a stronger wave of fists rained down on her for more than 16 minutes, the report said.
Half an hour later Chen was taken to a police office by car after the men who assaulted her had already walked away. When she requested medical treatment, a police officer scolded her, Chen said.
She later made a call to her husband, Huang Shiming, a senior official with the provincial law enforcement authority, while he was outside his office. At about noon, she was released and rushed to the Zhongnan Hospital of Wuhan University.
Hospital personnel diagnosed Chen as suffering from a cerebral concussion and many parenchymal contusions, as well as autonomic nervous system disorders.
The attackers were later identified as plain clothes police officers from the Wuchang district sub-branch of the Wuhan city public security bureau. They had allegedly been dispatched to guard the provincial Party committee's office building and subdue those who want to stage a petition or demonstration in front of the building, the report said.
At 5 pm that day, high-ranking police officers of Wuchang district came to the hospital to comfort her.
"The incident is a total misunderstanding. Our police officers never realized they beat the wife of a senior leader," the Party chief of the district public security bureau was cited as saying by some people who were in the ward.
His remarks ignited onlookers. "Does it mean the police are not supposed to beat leaders' wives, but that the ordinary people can be battered?" an unnamed visitor to the ward was quoted as saying.
The six police officers have been put under confinement and the local police discipline authorities have launched an investigation into the case, a publicity officer with the Wuchang district police bureau, surnamed Fang, told China Daily.
"This type of incident is a direct result of the authorities' connivance on the illegal measures of law enforcement officers to deal with petitioners," Zhou Ze, a Beijing-based lawyer who has long followed China's civil rights, told China Daily.
"No matter if the victim is an official's wife or just an ordinary person, he or she has the legal right to claim the government's compensation," he added.
Wang Yukai, a professor with the Chinese Academy of Governance, said the incident reflects some deep-rooted problems with the country's police authorities.
"The local police authorities are exceptionally sensitive about the increasing petition issues and therefore they are exerting every measure to stop the petitioners from claiming their rights," he said.
China Daily
(China Daily 07/21/2010 page5)