Cheaper green energy, better future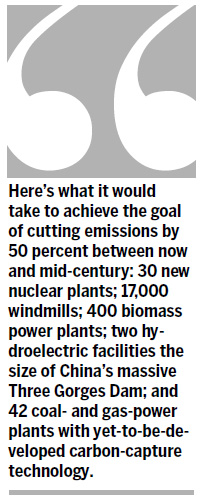 Public skepticism about global warming may be growing, but the scientific consensus is as solid as ever: Man-made climate change is real, and we ignore it at our peril. But if that issue is settled (and it should be), there is an equally big and important question that remains wide open: What should we do about it?
One prescription that is bandied about with increasing frequency certainly sounds sensible: The world should drastically cut the amount of greenhouse gases that it pumps into the atmosphere each day. Specifically, we are told, the goal should be a 50 percent reduction in global carbon dioxide emissions by the middle of the century.
Even its backers concede that achieving this target won't be easy - and they are right. In fact, they are so right that they are wrong. Allow me to explain.

Today's Top News
Editor's picks
Most Viewed