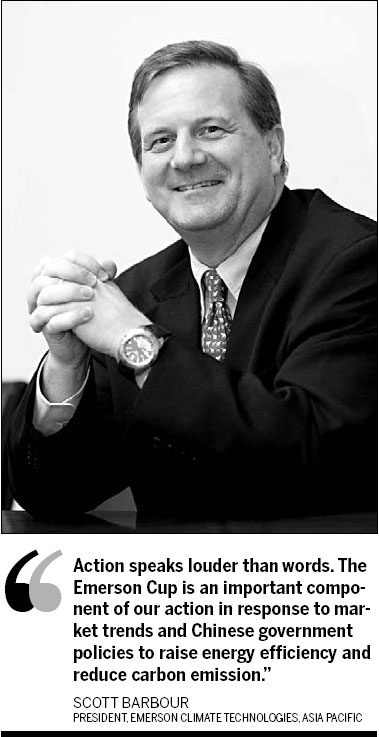 BEIJING - Scott Barbour, president of Emerson Climate Technologies in the Asia Pacific region, has been studying China's economic stimulus package intently since it was launched.
The program has offered many opportunities to the company, a business unit of the US industrial group Emerson, he said.
For instance, the company, one of the world's leading providers of heating, ventilation, air conditioning (HVAC) and refrigeration needs, has seen rapid increase in orders from the railway sector in China. Much stimulus investment went to the railway industry, said Barbour.
"Our growth in China is pretty good in the last 12 months," said Barbour, adding that the company's sales revenue in the country nearly doubled in 2009 from a year earlier.
Looking at this year, Barbour said the company would continue its strategy in China of designing, sourcing and manufacturing in the country.
China has now become the largest overseas market for Emerson Climate Technologies. It is also the market with the fastest growth rate, said Barbour. Today, China is significantly important both in manufacturing and research and development (R&D).
Besides running many plants in different Chinese cities, including Shenyang and Suzhou, Emerson Climate Technologies now also has an R&D center in Suzhou. The center, which is involved in technology development both for China and other markets, plays a very important role in the company's global R&D network.
In order to keep pace with the rapidly growing Chinese market, the company launches many new products in the country every year. In line with China's continuing efforts in energy efficiency and environmental protection, the company is also placing an increasing focus on the sector, said Barbour.
China has pledged to reduce energy consumption per unit of gross domestic product by 20 percent in the 11th Five-Year Plan period. (2005-2010). Under this target, the country has set higher standards for energy efficiency across many industries.
"We have been working on China's efficiency regulations and try to get ahead of them," he said.
For instance, the company's Digital Scroll technology is changing the Asian air conditioning market. Compared with traditional compressors, Digital Scroll compressors will raise energy efficiency by 35 percent, according to company statistics.
This year the company is holding the 2010 Emerson Cup Air-Conditioning Design Competition, a campaign to encourage more professionals to submit their designs to advance high energy efficiency in the HVAC industry.
The company is organizing the Eighth Emerson Cup this year. The 2010 Emerson Cup was designed to accommodate three groups made up of design engineers, dealers, and students.
The Emerson Cup is an annual competition that recognizes outstanding designs and innovation in the HVAC industry. By encouraging best designs using Digital Scroll technology, Emerson Climate Technologies believes that the competition helps the industry advance to a higher level of usage and applications, said Barbour.
"Action speaks louder than words. The Emerson Cup is an important component of our action in response to market trends and Chinese government policies to raise energy efficiency and reduce carbon emission," he said.
China Daily
(China Daily 07/19/2010 page20)