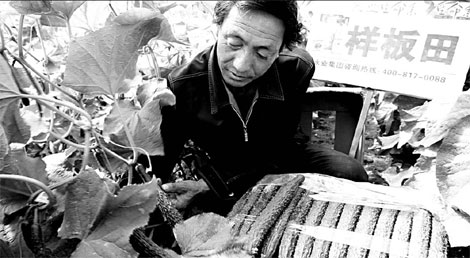 A farmer who uses Shengmingsu produced by Wu Zishen's Yongye International harvests cucumbers on his farmland in North China's Inner Mongolia autonomous region. Zhang Wei / China Daily
Yongye's products boost farmers' yields by up to 35 percent, says CEO Wu Zishen
BEIJING - It was an early morning in December last year and a bronzed middle-aged Chinese man, dressed in a plain suit and worn, dusty shoes, was walking across the bustling heart of the US financial district, Wall Street.
No one paid him particular attention, no doubt burdened as they were with their own worries during those dark days of the global financial crisis.
But unlike many that gloomy morning, Wu Zishen was a walking financial success story.
He was on his way to ring the Nasdaq stock market opening bell in recognition of the success of his plant nutrient company that boasts of boosting production for farmers by 10 to 35 percent.
What's more, he won the applause of the picky investment bankers in the midst of the most difficult time for the international economy for very many years, raising more than $100 million in funds.
Yongye International Inc, a Chinese organic agricultural nutrient company headquartered in Beijing, with its production facilities located in Hohhot, the capital city in North China's Inner Mongolia autonomous region, has played a clever game in the international market.
Prior to its Nasdaq listing, the company was successfully floated on the Over-The-Counter Bulletin Board electronic quotation system for stocks in the US in April 2008 with an initial public offering that earned the company more than $10 million. Five months later, as Lehman Brothers collapsed and the global economy fell into crisis, the company again attracted another $9 million in investments.
Wu, chairman and chief executive officer of Yongye International, said: "Our success is due to an excellent business model, good products and integrity, no matter how gloomy the economy is."
Yongye markets two lines of organic nutrient products: a liquid that is sprayed on plants to increase their yield and a powder that is added to animal feed to improve the health of livestock. Both products are sold under the brand name "Shengmingsu", which means "life essential" in Chinese.
"Soil erosion, the use of pesticides and improper farming measures cost billions of dollars in lost profits for Chinese farmers every year," said Wu. "Our business aims to solve the problems that 900 million Chinese are facing. That is the major engine of our business," he told China Business Weekly in his characteristic deep voice.
Chinese farmers
Although he was born in Hohhot, Wu didn't have a very clear picture of the life of Chinese farmers until he joined a poverty-relief project in 1994 when he worked at a local government department.
"Once my colleagues and I were carrying out an investigation in Tongliao, a city in Inner Mongolia, and a sandstorm blew up," Wu said. "We went to the house of a local farmer for shelter. I was shocked at what I witnessed.
"The family of five only had two pairs of trousers to wear and their miserable life was something that I had only read about in textbooks. I used to think the poverty of Chinese farmers might be down to laziness but at that moment I realized it was mostly generated by irresistible natural disasters. I resolved to do something for them."
Wu was a disciple of Qian Xuesen, a renowned Chinese scientist, who used to say that the sixth industrial revolution would focus on biotechnology and its battlefields would very likely be the deserts, prairies and oceans.
This was in the 1990s, after then-leader Deng Xiaoping had made his famous southern tour and inaugurated the market reform process.
The government followed suit by initiating supportive policies that allowed officials and civil servants to go into business on their own in a movement that the Chinese dubbed "going to sea".
Wu, who described himself as a son of the deserts, became one of these adventurers and has been seeking gold in the barren lands for farmers ever since.
After 20-years of working for a government department, he started his own business.
Taking advantage of his networks within the government bureaucracy, Wu set up an innovation and development group consisting of many top scientists and professors in Inner Mongolia.
He then rented a sparsely-inhabited 500,000-mu desert at Alashan, one of the major epicenters of China's sandstorms. One mu is 0.1647 of an acre.
Wu planned an economic model for the barren land. "I wanted to employ local farmers to grow haloxylon ammodendron," he said, referring to the drought-resistant plant with an ability to survive sandstorms and fix sand dunes as a counter to desertification. "The cistanche, a parasitic plant found on its roots, can be sold as a valuable Chinese traditional herb," he added.
Wu also encouraged the cultivation of Sophora alopecuroides, also a desert-born plant, used in the making of anti-cancer medicine and other products. He wanted farmers to raise sheep and camels for extra cash.
In addition, Wu had ambitions to build a scenic resort catering to western tastes and based around a three-star hotel.
Wu established Yongye in 2003 in a flurry of projects, patents and passion.
"Initially, I was not very clear about how to manage an enterprise, but my previous experience enabled me to know how a good enterprise could crash and how a bad enterprise could become successful," Wu said.
Wu had plenty of experience in managing assets of State-owned enterprises worth tens of billions of yuan as well as individual projects from his time working for the local government department. However, he says it made him overconfident.
He said: "I paid the price for my great appetite for a big company and several projects. In May 2004, the capital stream for Yongye broke down when the government squeezed my credit loans."
Shengmingsu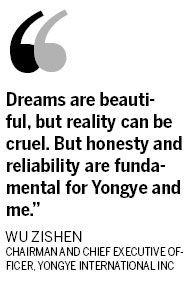 Recalling the difficult time, Wu reflected: "Dreams are beautiful, but reality can be cruel. But honesty and reliability are fundamental for Yongye and me."
Some of Wu's partners and colleagues gave him their own savings and some creditors lent more money without asking for interest or tenures.
"I was touched every day by every one who used to give support to Yongye," Wu said. "And, I especially appreciated the senior expert who shared with me the formula of Shengmingsu, which he devoted 40 years of his life to creating."
Shengmingsu for plants is a patent-pending chemical that stabilizes and helps mix fulvic acid with nutrients such as nitrogen, phosphorus, potassium, boron and zinc. It is able to boost their yield by 10 to 35 percent and also shorten harvest times by 15 to 20 days. The acid can be extracted from brown coal.
The world's brown coal reserve is estimated at 1,000 billion tons. There are 212 billion of them in China. Brown coal accounts for about 13 percent of the country's coal reserves and is mainly located in the eastern Inner Mongolia autonomous region.
However, China has paid little attention to brown coal because of its high moisture content, sometimes as high as 66 percent, and high ash residues. Further, carbon dioxide emissions from brown coal are generally much higher than for black coal.
"It is a way of turning waste into something valuable," Wu said. "I believe Shengmingsu will definitely gain popularity as it is in line with the government's environmentally-friendly notions and also with the policies for improving farmers' lives."
Wu received three million yuan from a commercial bank and started concentrating on Shengmingsu production.
Again, the road proved to be littered with obstacles.
"At the beginning, I simply thought that here is a good product that can help farmers to increase their yields so we provided them with free samples for a year's use. When they saw the good results we thought they would be happy to buy the product the following year," Wu said.
Things didn't work out quite like that. "Farmers cherish their crops more than their lives and they didn't dare to take a such risk," Wu said.
After several months of research, Yongye carried out its own marketing plan. "I asked a farmer how much he usually earned from one mu of farmland in a year. He said about 3,000 yuan," said Wu. "I immediately gave him 5,000 yuan as a deposit and asked him to try Shengmingsu for a year."
Wu was pleased with the smart marketing tactic but the reality disappointed him yet again.
When farmers find a good product that can help increase production, they are not willing to tell other farmers because they get concerned that more farmers using the product would accelerate market competition and influence crop prices, Wu explained.
As a result, the company held contests and rewarded those who shared the experience of using Shengmingsu and encouraged their neighbors and relatives to try it.
"We are delighted to witness that the farmers we used to talk to are now known as 'Boss Zhang' or 'Manager Li'," Wu said. "It actually echoed our Premier Wen Jiabao's promise earlier this year to enable Chinese farmers to live with confidence and dignity."
Working with farmers
Yan Shunli, a farmer from Tangshan, Hebei province, sprayed Shengmingsu on to his sweet melons. He found that the melons could be harvested up to five days earlier than previously.
Yan said the previous year's production of sweet melons from his three greenhouses was very small, and generated a total income of 30,000 yuan. In 2009, his yield was 7,000 kg of melons, which generated a total income of 50,000 yuan.
Despite being an area regularly hit by drought, Mingqin county in Gansu province saw unprecedented snow in the spring of 2008. The county has 47 greenhouses.
Pei Yuhua and five other households in Weiwu village used Shengmingsu on their peppers in six greenhouses. Plants in 40 of the 41 other greenhouses froze without any yield. Pei said: "Shengmingsu has an amazing ability to prevent plants from freezing, and most of the peppers survived from the natural disaster."
Wu Zishen says he can tell "millions" of such stories.
Wu moved his offices to farmland, holding meetings with his business partners and investors at farmers' homes.
"As an agricultural entrepreneur, an industry close to farmers, if you think you are not successful enough that's because you are not close enough to the farmers," Wu said.
That seems to be especially true as the industry begins to employ more and more young farmers born in the 1980s and 1990s with their own ideas. "The marketing strategies must be very much different. When you are saying how wonderful the product is by using adjectives and numbers, they never listen to you," he added.
In April, Wu gave a speech at Harvard University advocating "knowledge agriculture" and saying the business model of Yongye is not written in textbooks but found out on the farm.
"If you invest 40 yuan in one mu of land, I promise you can earn more than 400 yuan, but in reality it is likely to be 3,000 to 4,000 yuan; If you invest 100 to 200 yuan in a cow, I promise you can earn 2,000 yuan and it might exceed 10,000 yuan," Wu said.
Future development
Shengmingsu was used on 15 million mu of farmland across China in 2009, over 10 northern Chinese provinces, including the Xinjiang Uygur autonomous region.
China's rising incomes and increasing demand for grains and meat spurred the growth of Yongye's plant and animal nutrient business. The company's stores may rise to 20,000 by the end of 2010 after climbing to 13,000 from 1,100 early last year.
Since the beginning of 2010, Yongye has been streamlining the manufacturing process on the existing production line to enhance efficiency and output. The annual production capacity of the plant nutrient product has increased by 50 percent from 10,000 tons in 2009 to 15,000 tons.
Wu said: "We will promote Shengmingsu overseas when the production capacity reaches a certain level. We believe it will have a market since the pursuit of food safety, good taste and health is the same whether in China or abroad."
China Daily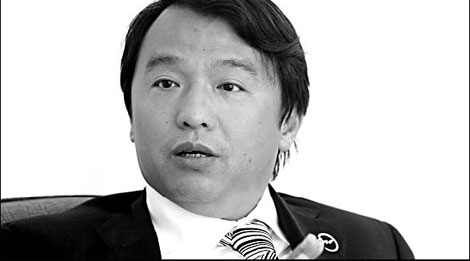 Wu Zishen, chairman and CEO of Yongye International, describes himself as a son of the deserts. He says he is committed to seeking 'gold' in the barren lands for poor farmers.
(China Daily 07/12/2010 page16)