The Song Dynasty ink-on-silk painting "Life Along the Bian River at the Pure Brightness Festival". A detailed, interactive and multi-layered digital rendition of the priceless work of art, created by a Chinese scientist with Microsoft Research Asia in Beijing, can now be seen and studied at the Palace Museum in Beijing. Provided to China Daily
Microsoft engineer develops software with global implications
BEIJING - A software engineer in Beijing has revealed a breakthrough in technology that could have a profound effect on museums globally and which puts Beijing firmly on the map of cutting edge development.
Xu Yingqing, 50, a lead researcher with Microsoft Research Asia in Beijing, has created a detailed, interactive and multi-layered digital rendition of the Song Dynasty ink-on-silk painting "Life Along the Bian River at the Pure Brightness Festival".
The image of the priceless work of art created by Zeduan Zhang and rarely shown in public can now be seen and studied in unique detail in the Hall of Martial Valor at Beijing Palace Museum, also known as the Forbidden City.
"It provides a virtual three-dimensional walkthrough of the painting with sound," he said. "The level of detail for a work of art like this has never been created before. The technique can also be applied to other paintings and even vases and the Terracotta Warriors. It will enable artists and art historians to study works at a level never before accomplished."
The original masterpiece - one of China's top 10 most famous paintings - measures 528.7 centimeters in length by 24.8 cms in height. It created a special challenge to the software developer, who has been granted 16 patents in the United States with more pending, because in common with many Chinese works of art there is not a single fixed focal point of interest but several.
The year-long work was carried out as part of Microsoft's eHeritage project in conjunction with Peking University and the Palace Museum free of charge. It was a pilot project with a view to rolling out the technology to other museums, initially in the Asia Pacific region and then in Europe and the Americas. No cost analysis has been applied to it and no commercial decisions have yet been made about its future.
The scroll depicts more than 800 people engaged in activities ranging from playing stringed instruments to paying taxes, illustrating the various strata of the Northern Song Dynasty (960 to 1127).
Microsoft Research Asia established the eHeritage project to facilitate collaborative research with academia in the Asia-Pacific region on applying advanced technology to the digitization, preservation, and dissemination of cultural heritage. eHeritage has funded more than 10 research proposals over the past several years.
"Building on the existing technologies provided by Microsoft for eHeritage, today we are in a position to both showcase and preserve the glory of the world's heritage for future generations," said Shirley Liu, communications and marketing public relations manager for Microsoft Research Asia.
Xu, who is also co-director of the Microsoft Digital Cartoon and Animation Laboratory of the Beijing Film Academy, set himself the challenge of designing and implementing a platform that would guide visitors to learn about the ancient culture depicted in the painting.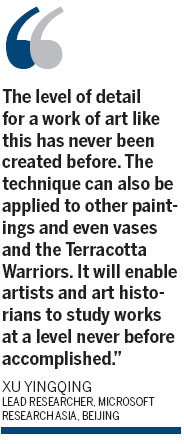 The high-resolution image of 1.4 gigapixels (its closest rival commercially is 400 megapixels) is annotated with 700 dialogues from 51 groups of people depicted by the artist as well as wildlife sounds and an overlay of music. The voices and sounds are attached to objects in the painting and become louder as the viewer pans and zooms in on the different images on the 63-inch screen.
The sound scripts were compiled by researchers from Beijing Palace Museum who had majored in the history and ancient culture of the painting. Voices were recorded in Mandarin with the Kaifeng accent from Hunan to reflect the original setting.
"The system is the first of its kind to provide a 3D modeling of moving focus, a famous Chinese painting technique that is different from the fixed viewpoints in Western paintings," said Liu.
"When a user navigates on the multi-touch screen, the user interface estimates the 3D position of the user's viewpoint from his or her actions, consequently activating the embedded stories to synthesize a realistic stereo audio field according to the viewer's orientation and distance from the sound sources in the hidden space. All the sounds play an important role in guiding the viewer to visualize the complex content of the painting."
The software will also help in detection of art fraud because its resolution, six times sharper than the human eye, can even measure brush strokes in microscopic detail from several perspectives, enabling even the depth of paint on an oil canvas to be calculated.
The software is the latest to be unveiled by Microsoft Research in Beijing where a team of some 200 mainly Chinese experts works. Since its establishment in 2004 they have patented more than 1,000 programs.
Currently they are working on a telephone system that translates, transcribes and transliterates different languages, enabling, for example, an Albanian to confer with a German in their native languages in almost real time.
In conjunction with European and US counterparts, they are also putting the finishing touches in readiness for the Christmas market to what they are calling Project Natal, which Microsoft editor Matt Callcutt said would "blow" Nintendo's Wii home video game console "out of the window".
The system, which plugs into Microsoft's Xbox 360, does not require any hand-held device. It includes facial recognition and enables users to scan their own sports equipment, such as a skateboard, into games or even try virtual clothes on at an Internet fashion store.
"The graphics, speech and facial recognition were developed here in Beijing," said Callcutt, 34.
The research team includes a researcher who mastered in psychology. Dr Chen Zhao, 37, was hired in 2008 to use her specialism to match computer systems with how humans behave, whether in gaming or social networking. "A psychology background is useful because it helps us understand people," she said. "Before we build stuff we should know what works, what excites people, what engages them.
Twenty years ago our goal was usability. Now, when we deliver a new product we want a 'wow' factor. We want users to be really in touch with our products. It is not just about engineering but also about emotions. From psychology we can develop methodology that other disciplines may not be able to articulate."
Microsoft is just one of several thousand software companies in China pushing at the boundaries of digital development.
One of the most prominent in the Chinese Internet sector is former Microsoft and Google executive Lee Kai Fu. The former Taiwanese and current US passport holder quit Google last September to create what he called a Chinese Silicon Valley.
Innovation Works is a venture capital company aimed at investing uniquely in Chinese talent.
So far it has invested in three mobile phone technology companies. Now, with 80 employees and 2,500 square-feet of office space in Beijing, Innovation Works is looking to raise a multi-million dollar fund in order to create five successful Chinese startups a year in the mobile Internet, cloud-computing, gaming and e-commerce sectors.
"My job is to find brilliant and inventive entrepreneurs, match them up with great engineers, help them come up with an idea, define the idea, get the product out and get funding," he said in March at the Abu Dhabi Media Summit.
He said commitment and hard work were vital if China was to challenge Silicon Valley as a creative hub, because the country's "fundamentally flawed" education system had left a generation unable to question established thinking and create unique inventions.
"Chinese entrepreneurs have the same level of passion, but the out-of-the box thinking that (Google founders) Larry Page and Sergey Brin had is very hard to come by," he said. "Their ideas are clever, but they're not a paradigm shift. For that we will still have to look to the valley for some time.
"The mobile internet is the most exciting thing. It knows everything about you. It knows what you're interested in, where you are, and what you've done." He predicted that within six or seven years the vast majority of China's 800 million mobile phone users would have Internet access, compared with 300 million today.
China's software industry grew at a compound annual growth rate (CAGR) of more than 39 percent over the period from 2001 to 2007 and is further anticipated to grow at a CAGR of nearly 22 percent through 2012.
Rapid growth in information technology (IT) spending among various industrial segments, including government, banking and manufacturing is likely to propel the domestic software industry in the near future, say analysts.
China Daily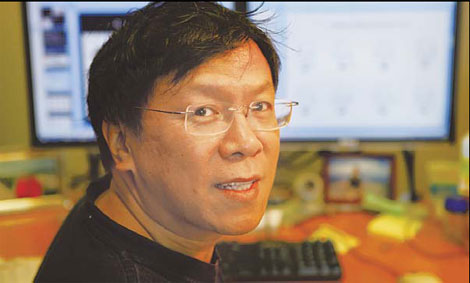 Xu Yingqing, 50, a lead researcher with Microsoft Research Asia, said he set himself the challenge of designing and implementing a platform that would help people study the ancient culture depicted in the classic and priceless painting.
(China Daily 07/12/2010 page13)