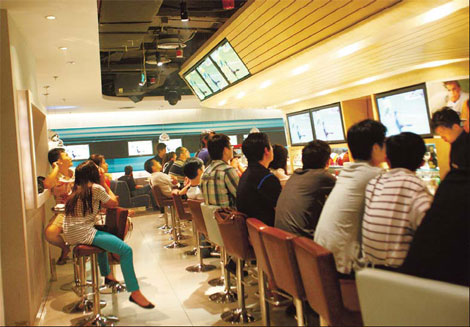 The city's bars have been filled with soccer fans during the World Cup. Zou Hong / China Daily
Beijing Dongcheng District People's Court has charged Zhao Yan with running a casino, according to the court.
Zhao, who is said to be an agent of an overseas gambling website, is alleged to have organized online football gambling in an Internet caf in the Dongcheng district since August of 2009.
He is believed to have amassed more than seven million yuan from the operation before police arrested him in February of 2010, following tip-offs from local residents.
According to Zhao's confession to the People's Procuratorate of Dongcheng, he did not gamble himself, but profited from the commission he made from the betting of others.
The People's Procuratorate of Dongcheng declined to disclose more details about the case.
"The charge of setting up a casino can result in a penalty of up to 10 years in jail," Hao Di, a worker with the court told METRO.
The crime of setting up a casino is separate from the crime of gambling, introduced in an amendment of China's Criminal Law in 2006 with the maximum penalty increased from three to 10 years.
Establishing gambling websites, working as agent of gambling websites and telephone betting are all included in the crime, Di Qicheng, a chief judge with Beijing Dongcheng District People's Court, was quoted as saying by Mirror Evening Newspaper.
The case is under further investigation and is expected to be heard in court the week after the next.
Since the start of the 2010 FIFA World Cup, the capital has investigated 25 Internet gambling cases and arrested 52 suspects, and the country has cracked down on around 600 soccer gambling groups involving about 50 million yuan during the World Cup games.
Another 65 gambling organizers, mainly from Philippines, Malaysia, Hong Kong and Taiwan, were arrested during the campaign.
China Daily
(China Daily 07/09/2010)