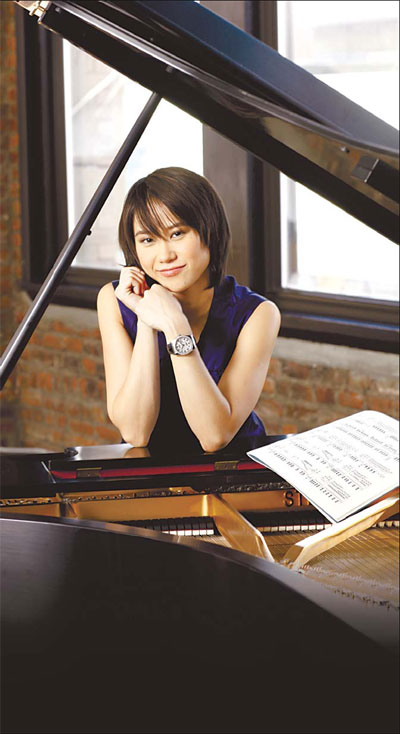 The rocket ride to success does not bring any pressure to 23-year-old pianist Yuja Wang, who always "looks forward to things". Provided to China Daily
Life keeps changing and growing for piano prodigy Yuja Wang, Chen Jie reports
Yuja Wang released her second Deutsche Grammophon (DG) album, Transformation, in April. Music has transformed the life of the brilliant 23-year-old young pianist who has been the most talked-about classical pianist since Lang Lang. She says that the title "transformation" reflects the Buddhist idea that life consists of constant changes. "Everyday my life just keeps transforming, keeps changing and growing," Wang told China Daily on Friday afternoon before her recital at the National Center for the Performing Arts (NCPA).
Last June, when Beijing-born Wang returned to her hometown to give her first recital since she left in 1999, NCPA's concert hall was only 70 percent full. Three months later in September, she returned with the Lucerne Festival Orchestra under the magisterial baton of Claudio Abbado and played to a full-house, but most of the audience were there for the maestro Abbado.
Things have changed dramatically in nine months. Though Friday and Saturday nights had the crucial quarter-final games of the 2010 World Cup, Wang's Friday night recital was sold out and Saturday's concert with the newly formed NCPA orchestra also drew a large audience.
Last June on the day she attended NCPA's press conference, her parents took her to buy a "formal suit". They went to Xidan and picked a simple white shirt and cream pants.
Now lots of designers want to dress her. But Wang usually says no.
"It's a commitment and you always have to wear their dress. And I just don't want to commit. It's not going to enrich me, it's going to distract me. Music is my main interest," she says.
Wang's independent streak has a strong influence on her music.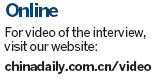 Chopin is one of Wang's core composers, but in a year when most pianists have been playing Chopin and recording Chopin to commemorate the 200th anniversary of the musician's birth, her new album eschews Chopin preludes and ballads and she plays Schumann, Schubert and Liszt at her concerts.
Friday's recital was framed by NCPA's Chopin series of concerts but Wang played only one Chopin piece and even this was at the request of the NCPA.
"Chopin is my favorite composer, but everything has a limit. I feel like I'm protecting myself from listening to Chopin so much, so this year I intentionally won't play much Chopin," Wang says.
"Many people knew me after they watched me playing Mozart's Turkish March and Rimsky's Flight of the Bumblebee on YouTube and thought I'm a kind of speed player. I want to change that image.
"Speed in playing and showing off the techniques were what I enjoyed at a young age, but now, I want to play pieces rich in color and musicality," she says.
Wang's independence and clear direction resulted from her early life abroad without the usual protective parents in attendance.
Having been a star student at secondary school attached to the Central Conservatory of Music in Beijing, Wang moved to Canada when she was 12 and to the United States the following year. Though Curtis Institute of Music, where she studied with Gary Graffman, between 2002 and 2008, assigned her a surrogate family to which she grew close, she mostly lived on her own in Philadelphia.
In an interview with the US National Public Radio, she shocked listeners by saying she doesn't necessarily love her chosen instrument.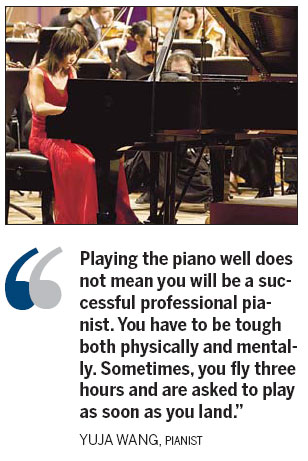 "I mean I love music not necessarily the instrument itself. The reason I chose the piano is because it is like a conductor, it has so much color, it's like an orchestra. If I didn't play piano, maybe I would be a fashion designer, a movie director, who knows?" she says.
Wang did not imagine she would achieve success so quickly, and says it feels "crazy" to give more than 100 concerts a year, but obviously she is getting used to the life of being a professional pianist and her schedule has now been booked till 2013.
"I only want to play the piano. When I was young I loved touring because I could see different cities, different people and know their culture. But now I feel traveling too much is really tiring. I don't like the life from airport to concert hall to hotel. And it's hard to sleep with the jet leg. Sometimes I don't know how long I've slept or where I am when I wake up in the morning. But it's all part of the game, I guess," she says.
"Before, a concert was like a big event to me, but right now, because there are so many concerts, it's just my daily life.
"It's nice to have about 60 to 70 concerts a year. Then I have time to practice, think and refresh."
She adds it's lucky she developed a strong repertoire at Curtis and doesn't need to keep practicing now.
"Many people have talent, I was lucky and grasped my opportunities. Playing the piano well does not mean you will be a successful professional pianist. You have to be tough both physically and mentally. Sometimes, you fly three hours and are asked to play as soon as you land," she says.
Wang signed with the prestigious DG label and won her first Grammy nomination and was acclaimed the "Best New Artist" or "Young Artist of 2009" by all kinds of classical organizations.
It has been a rocket ride to success. Does she feel much pressure?
"No, no pressure, I work better," her answer sounds quite firm.
"I guess I'm just excited and look forward to things. I do all these projects instead of worrying what is going to happen, because I really don't care what's going to happen. I just play the piano."
And when the Chinese press compares her with Lang Lang or Yundi Li, she laughs.
"Oh, that's old news. It was five years ago. There are so many younger talents emerging. They are definitely the first ones to be successful internationally and Lang Lang is also with DG, so it's easy for people to try and make comparisons, but they are other people."
On stage Wang is a wonderfully gifted and thoughtful musician, capable of both superb technical artistry and emotional reflection, while offstage she is quick to laugh and easygoing.
When she returns to Beijing, she enjoys reuniting with parents and eating food cooked by her mother. This time she met many former middle school classmates, who are now members of the NCPA's orchestra.
"It was really cool and amazing to meet and play with my classmates from many years ago. The rehearsal reminded me of the time we were in the same class and I felt I was one of them again," she says.
The loneliness of touring is eased somewhat by her laptop with webcam, and Facebook, YouTube and Twitter.
She also loves to listen to jazz and pop music.
"Right now, actually I'm kind of admiring Lady Gaga and Rihanna," she says.
(China Daily 07/06/2010 page19)