Some of China's most famous 20th-century identities lived in Shanghai and many of their former residences still stand, Xu Junqian reports.
Because of its relatively young age (around 200 years), Shanghai does not have the ancient historical sites similar to those found in Beijing or Xi'an. But, in its favor, the city attracted some of the most influential and important people in both politics and culture in a critical phase of Chinese history. Some of the Shanghai residences of these notable figures have been preserved and some are open to the public. They offer a fascinating insight into the lives of the people who helped shape modern China.
1. Mao Zedong's house
This traditional two-floor Shikumen (stone gate) house was Mao's residence when he was working in Shanghai in 1924 as party secretary. In one of the rooms on the first floor, where Mao and his first wife Yang Kaihui lived, there are wax replicas of the couple, with Mao writing by the desk and Yang taking care of the babies. Other rooms feature Mao's and his family's furniture and other household items.
Address: 5-9, Lane 120, Maoming Road N
2. Soong Ching-ling's residence
Surrounded by lush camphor trees and a large lawn, this beautiful white villa with a red roof was the Shanghai residence of Sun Yat-sen's wife, Madame Soong Ching-ling, from 1949. From 1963, Song spent most of her time living in Beijing, and only returned to Shanghai for occasional stays or for holidays. The mansion has a more elegant and Western air than Houhai Royal Garden, Soong's residence in Beijing. Built in the early 1920s, the villa was the former property of a German shipbuilder. The mansion displays thousands of items once used by Soong on its grounds and over its two floors, including a car from the former Soviet Union, pictures, letters, Soong's college diploma, collected books, daily utensils and presents from state activities.
Address: 1843 Huaihai Road M
3. Sun Yat-sen's residence
This two-story European-style villa was the residence of Sun and his wife, Soong Ching-ling. They lived there from 1918 to 1924. The house was purchased by several Chinese expatriates in Canada and given to Sun as a gift. After Sun's death in 1925, Madame Soong lived there until the Sino-Japanese War (1937-45). It is now a memorial to Sun and is open to the public. It still retains its 1920s style and contains much of the furniture and household appliances that were used by China's great nationalist leader.
Address: 7 Xiangshan Road
4. Lu Xun's residence
Lu Xun is one of China's major writers of the 20th century and is considered by many to be the founder of modern Chinese literature. Lu arrived in Shanghai in 1927, where he co-founded the League of Left-Wing Writers and spent the rest of his life here. Located in a traditional neighborhood, Lu's former residence is a three-floor, red brick house and is typical in style to country houses in Shaoxing, Lu's hometown.
Inside the house, Lu's belongings are displayed, including medical instruments he brought back from Japan when he was a medical student. In the bedroom, you can see a clock and calendar recording the date and time of Lu's death: 5:25 am, Oct 19, 1936.
Address: No 9, Lane 132, Shanyin Road
5. Eileen Chang's residence
Eileen Chang was a major author of contemporary Chinese literature. She was famous for her subtle portrayal of life in 1940s Shanghai and the tension between men and women in love. Chang lived here with her aunt before moving to Hong Kong. This was also her residence during one of the most important periods of Chang's life, as she finished a large number of her works here and had a well-publicized affair with Hu Lancheng, to whom she was married for four years.
Address: 195 Changde Road
6. Mei Lanfang's residence
Mei Lanfang, one of the most famous Peking opera artists and known for his qingyi roles, a female character in Peking opera, lived in this four-floor Spanish-style garden villa from 1932 to 1945. During this time, he performed in several patriotic-themed operas to encourage people to join in the fight for the country in the Sino-Japanese War. This was also the place where Mei endured an impoverished life when he turned down the commander of the Japanese Army's order for him to sing and was banned from performing.
Address: 87 Sinan Road
7. Chiang Kai-shek's residence
The was the property of the Soong family and became part the dowry given to Soong Mei-ling, the second daughter, on her marriage to Chiang Kai-shek, the leader of the Kuomintang. The couple spent their honeymoon there. The residence was later used as a meeting place with government officials. Chiang named the house "ai lu", (love cottage), and it was one of his three favorite houses. The government took over the house in 1949 and now it is a middle school affiliated to the Shanghai Conservatory of Music.
Address: 9 Dongping Road
8. Ruan Lingyu's residence
Ruan Lingyu was the most celebrated actress of the 1930s golden age of Chinese cinema. She lived in this Spanish-style garden villa on Xinzha Road for all of her short and tragic life. It was here she committed suicide when aged 24, writing: "Gossip is a fearful thing" in a suicide note. The house is still a private residence shared by three families, but visitors may be able to get inside and take a look.
Address: 1124 Xinzha Road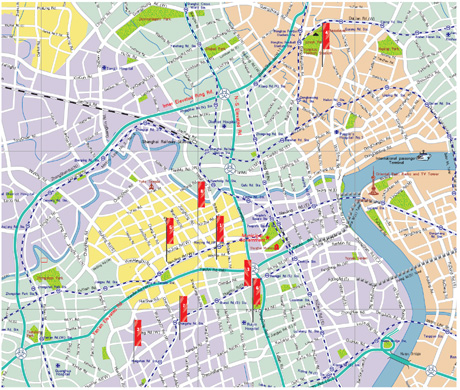 (China Daily 07/02/2010 page40)