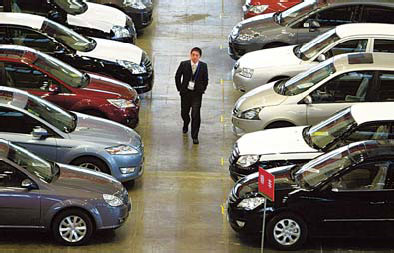 New cars on sale at an automart in Nanjing. The government moves will help sales of green cars. An Xin / for China Daily
BEIJING - The new subsidies announced by the government will not only prompt automakers to manufacture more fuel-efficient vehicles but also make considerable progress in terms of technology and reduced emissions, analysts said on Thursday.
The government on Wednesday extended subsidies to 71 fuel-efficient vehicles to promote energy saving and emission reduction in the automobile industry.
Vehicles eligible for these subsidies should have an engine capacity of 1.6 liters or less and will qualify for a subsidy of 3,000 yuan per unit, the National Development and Reform Commission said in a statement.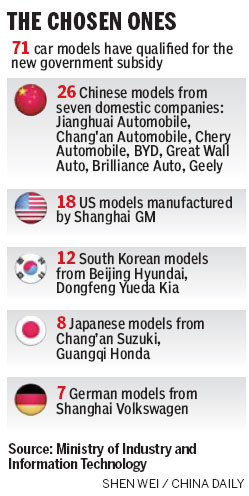 A majority of the models on the list are those made by 16 domestic automakers and joint ventures. Most of them have achieved fuel consumption reductions of about 20 percent on average compared with current standards, said the statement.
More vehicle models are expected to benefit from the subsidies soon, it said.
"The moves will spur the sales of models which qualify for the 3,000 yuan subsidy," said Fu Yuwu, secretary general of the Society of Automotive Engineers.
Shanghai General Motors, which has 12 models on the subsidy list, is one of the biggest beneficiaries of the new scheme. Prominent among its models on the list are the Chevrolet Sail, the 1.2-liter Chevrolet Lova, Cruze 1.6MT and the new 1.6-liter turbo engine Buick Regal.
"Since 2008, Shanghai GM has spent $1.1 billion to optimize the powertrain systems of our vehicles," said Ding Lei, chief general manager of Shanghai GM.
"We have also lowered the fuel consumption and emissions of all our vehicles by 8 percent and 13 percent respectively. At the same time we have increased the power output of the vehicles by 10 percent," he said.
The company will continue to produce more new fuel-efficient vehicles in the coming years and reduce fuel consumption of its models by another 15 percent in 2015.
Analysts said the subsidies will boost Shanghai GM sales and help it take on competition from other foreign-funded automakers.
China Daily
(China Daily 07/02/2010 page13)