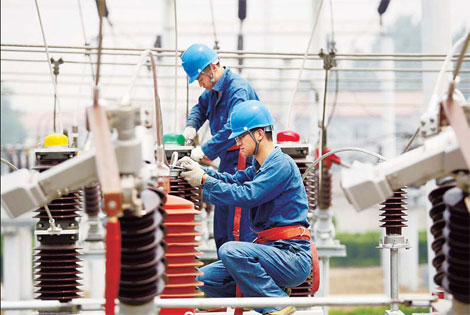 Workers carry out maintenance work at a power installation in Anhui province. Provided to China Daily
New standards covering power generation to help unify fledgling industry
Beijing - State Grid Corporation of China released standards for the smart grid industry on Tuesday aimed at unifying the fledging industry and maintaining its edge in the booming market.
The new rules identify 22 core criteria covering power generation, intelligent transmission, substations, distribution, utilization and dispatch for the implementation of China's smart grid project.
The norms will be incorporated into State Grid's 228 pilot projects and some of them will be scaled up to global standards by 2020, the company said in a statement.
"We will urge the government to integrate the smart grid project with the national development strategy. This will help us have a bigger say in the international smart grid market and play a lead role in setting industry standards," said Wang Yimin, head of State Grid's Smart Grid Department.
"China is the fastest-growing market for smart grids and unlike most other countries, the pilot project we are implementing is a systematic one that stretches from power generation to intelligent power dispatch," Wang said.
According to Wang, State Grid is planning to invest 250 billion yuan in its power network, and has earmarked less than 10 percent of the funds for the smart grid pilot project this year.
By taking the lead role in formulating the standards, State Grid expects to retain its dominance in smart grid construction and also hopes the equipment suppliers will adhere to the norms, said Wang.
China currently has no national standards regarding the technical specifications of smart grid implementation and the company hopes the government will adopt the State Grid standards as national standards.
According to State Grid, the main operator of China's smart grid project, its current equipment suppliers are mainly from subsidiary companies and also companies it acquired and merged with recently.
At the same time, some experts have expressed concern that the aggressive power supplier is trying to monopolize China's smart grid market.
A public and transparent standard will help break the industry monopoly by encouraging competition, analysts said.
State Grid has also outlined a development plan for the key equipment used in smart grid construction. This is expected to help the company gain a lead role in the manufacturing of critical parts for the smart grid system by 2020.
Foreign companies have more advanced techniques, and research and development facilities. But they also charge more for equipment and services, said Wang.
China Daily
(China Daily 06/30/2010 page15)