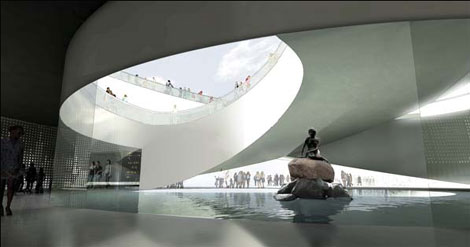 The Little Mermaid at the Shanghai Expo.
Since the Danish Expo 2010 project was introduced in 2008, the story about the Little Mermaid's trip to the Expo in Shanghai has gained much media coverage. Now the Little Mermaid is in the Mermaid Pool in the centre of the Danish pavilion.
The Little Mermaid is one of Denmark's biggest tourist attractions and has been sitting on Langelinie in Copenhagen since 1913.
The idea to move The Little Mermaid from Copenhagen to Shanghai is a gesture of cultural generosity and also an invitation to open a cultural dialogue between Denmark and China.
Organizers hope that the Chinese public will enjoy getting a close look at the Little Mermaid and expect that she will contribute to making the Danish Pavilion popular among visitors.
Visitors at the Expo have the opportunity to try some of the best aspects of Danish city life themselves by riding around the Little Mermaid on a bike like true Copenhageners or having an organic picnic in the roof garden. Around 70 million people will view the iconic symbol of the Danish capital.
The statue illustrating Hans Christian Andersen's famous fairytale character created by sculptor Edvard Eriksen was donated to the city of Copenhagen by patron of art Carl Jacobsen, son of the founder of Carlsberg Breweries.
Ballerina Ellen Price, who danced the lead role in the ballet of The Little Mermaid in 1909, and made a great impression on Carl Jacobsen, inspired the statue. As Ellen Price, however, did not want to pose in the nude, the statue was modeled on the sculptor's wife Eline Eriksen. The statue, cast in bronze, is only 125 cm tall and weighs 175 kg.
While in Shanghai, the Little Mermaid's place in Copenhagen will be temporarily taken over by a work created by Chinese artist Ai Weiwei.
The artwork is a video installation which simultaneously registers documents and articulates the movements and changes that take place during the months when the mermaid is away, including her absence from Langelinie and her presence in Shanghai.
Through a neutral lens, the artwork creates a connection between cultures and destinations, while also conveying differences and shifts, according to media reports.
Reports say before the Little Mermaid moved to Shanghai, the Copenhagen's city council voted to allow the city's famous Little Mermaid sculpture leave its historic perch over the port for a controversial visit to China.
After three counterproposals and nearly an hour of debate, the municipal council approved sending the iconic statue to the 2010 Shanghai World Expo by a vote of 36 for and 12 against, with two abstentions, according to the Straits Times.
Expo 2010 Shanghai will be held from May 1 to October 31 and the Little Mermaid will be away from her rock from early April to November 2010.
(China Daily 06/29/2010 page24)