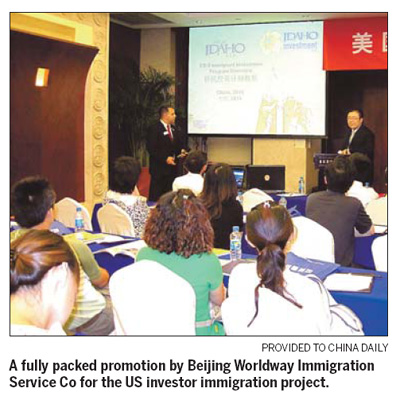 Wealthy Beijing residents are now considering a gold mine investment in the state of Idaho, in the United States. But instead of looking for profits, they are hoping to realize their "American dream" and obtain a Green Card, evidence of lawful permanent resident status in the US.
As early as 1860, around 8,000 Chinese laborers worked in a gold mine in Idaho. However, Chinese people, if they are wealthy enough, can now play a role as investors in Idaho's gold mine and receive EB-5 visas, said a brochure handed out by Beijing Worldway Immigration Service Co, the organizer of this promotion.
"This is very much similar to the 'gold rush' which happened in the 19th century, but we are just looking for permanent residency in the United States, not money," said a man surnamed Wang, who refused to reveal his full name, at a promotion for an US investor immigration program in Beijing.
The gold mine is located in Quartzburg, 35 miles away from Boise, the Idaho state capital. It is said the mine boasts 4.38 million tons of gold ore that can be exploited for 17 years.
"The estimated total value of that gold mine is $1.6 billion. We have conducted a field survey in Idaho and we are confident the project can provide enough job opportunities and secure the green cards you and your family desire," said consultants at Worldway introducing the investment.
Every Chinese investor investing at least $500,000 into the mine, creates more than 10 jobs for local people and is eligible for a US green card.
"I admit the project is attractive," said Lu Yue, a woman in her 40s. "Gold is always precious. Times change but it keeps its value."
When Lu was asked why she wanted to emigrate abroad, she said she was thinking about a bigger stage for her 20-year-old son and a better environment for her retirement.
Chen Qi, a 43-year-old man who owns a private company in Beijing, said he was considering emigrating to the US because he wanted to expand his business overseas.
"My company produces metal fittings. My family and I can live in the US and run the business there, where our firm may enjoy an even bigger market," Chen said.
Chen said that he had already made up his mind.
"Have you ever watched A Native of Beijing in New York (A popular TV series in 1990s)? Whether it (the US) is heaven or hell, you should have a try. I don't care if people criticize me for leaving my country and joining this gold rush," Chen said.
Winner Xing, president of Worldway, told METRO that the gold mine project is destined to be a success and he expected the 120 vacancies to be filled in just three months.
Xing says the reasons are simple. The Canadian government increased the threshold of the investor immigration program to C$800,000 ($773,000). That change may push many people to apply for the US projects, which only ask for $500,000. The processing time is also much shorter for the US projects, around three to five months.
In Beijing, the number of US investor immigration projects has grown rapidly since 2006. In early June, Yang Rong, former president of Brilliance Auto, introduced an enormous green car plant plan to Chinese immigration investors.
According to CBN Weekly, Yang was intending to raise $7.86 billion to build the largest car production facility in Baldwin, Alabama and import up to 15,724 investment immigrants to the US.
China Daily
(China Daily 06/29/2010 page25)