BEIJING - A senior United States senator on Wednesday said US arms sales to Taiwan were hurting ties with China and challenged US Defense Secretary Robert Gates on the necessity of the deal.
She also revealed the Chinese leadership is considering redeploying some arms targeting Taiwan to ease tensions, while a senior Chinese military source close to the affair told China Daily that China is unlikely to unfreeze military contacts with the US if Washington sticks to its tough tone on the arms deal.
US Senate Intelligence Committee Chairwoman Dianne Feinstein, who visited both Beijing and Taipei earlier this month, called US arms sales to Taiwan "a substantial irritant" in relations between Washington and Beijing.
She also asked Gates what substantial steps China would have to take to get the Pentagon to reconsider future arms sales to Taiwan.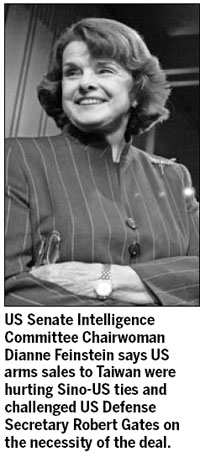 It has been five months since Beijing announced it would curtail military contacts, including high-level visits with the US, after the Obama administration notified the US Congress of a $6.4-billion arms sale to Taiwan. Earlier this month, China took the extraordinary step of turning down a proposed fence-mending visit by Gates.
Gates defended the arms sales, citing as justification what he called an "extraordinary  ... deployment of all manner of cruise and ballistic missiles opposite Taiwan" across the strait.
Feinstein responded: "In my meeting with some of the leadership, it was mentioned that China had offered to redeploy back. Now I understand the word 'redeploy' isn't 'remove'. And I understand the nature of what's there and the number of troops."
Feinstein did not elaborate about the offer, telling Gates, "Perhaps some of this I should discuss with you privately."
Gates said it was up to Congress and the White House to decide whether to change the way arms are sold to Taiwan.
"This is not a decision that's up to the department of defense. It is a decision that is up to the political leadership of the United States in terms of what would be required in order to change our approach with respect to the execution of that law or change that law if it's necessary."
He was referring to the US Taiwan Relations Act, the legal base of US arms sales to the island.
A source with the Chinese military close to the affair told China Daily on Thursday the Chinese leadership has never officially talked about the redeployment.
Beijing does not want to see the current impasse in military relations with Washington, he said. "But it is unrealistic to think military contacts will recover if the US doesn't change its stance on the arms sales," said the source who declined to be named.
Wang Baodong, a Chinese embassy spokesman in Washington, told Reuters that China's deployment of "defensive forces within its own borders was for safeguarding its territorial integrity and defending its national security".
"As to the redeployment, it depends on how the situation evolves," he said by e-mail.
Shen Dingli, an expert on US studies with Shanghai-based Fudan University, called Feinstein's comments "an historical milestone", though he was not sure whether it was the first time for a US senator to make such challenges.
"It is pragmatism, not idealism. She realized China's increasing power makes it necessary for the US to seek good bilateral relations, while it does not necessarily mean she supports China," he said.
But Shen brushed off the possibility of the US ceasing arms sales to Taiwan in the coming decade.
"Only when China's economy grows equal to the size of the US, with a tremendous growth in military expenses, will the US seriously consider stopping the deals as it realizes it will not defeat China, neither will it 'protect' Taiwan," he said.
Yin Zhuo, an admiral and senior researcher at the Chinese navy's equipment research center, is also pessimistic when it comes to the US revising the Taiwan Relations Act.
"We thank the senator but the act is deeply intertwined with many interest groups in the US, from diplomatic and business circles to the banking industry," he said.
Without a keynote change in Washington's China policies, it is even impossible to see either party reach inside agreement on a revision, he said.
China Daily
(China Daily 06/18/2010 page23)