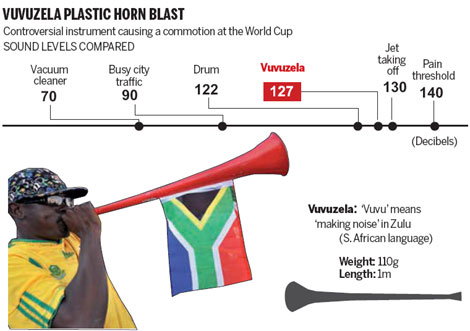 BERLIN - World Cup fans may be split on South Africa's vuvuzela, either merry fanfare or deafening din, but two German entrepreneurs who bought the resale rights for Europe hope the horn will spell gold.
Cherished by South African football fans, the one-meter long plastic trumpet produces a drone like a giant swarm of bees when thousands are played at once, sparking a growing backlash from broadcasters, fans and even some players.
But Frank Urbas and Gerd Kehrberg - who acquired the resale rights for the European Union from the vuvuzela's South African maker Masincedane Sport in March last year, are betting business will be brisk despite the controversy.
Today's vuvuzelas are a modern spin-off of traditional instruments made from spiralling kudu horns - kudus are a kind of antelope.
Several million of them have been produced in Germany, which makes up 90 percent of all sales in Europe, says Urbas.
Most are retailed in fuel stations, supermarkets or to businesses who hand them out as client freebies.
Asked about the venture's profits, Urbas said: "We have nothing to complain about."
World Cup organizers on Monday denied they were mulling a ban on the deafening horns, as the chairman of the South African organising committee had appeared to suggest. They insisted the vuvuzela was a symbol of the tournament.
A recent survey found the sound emitted by a vuvuzela could reach 127 decibels - louder than a drum's 122 decibels or a referee's whistle at 121.8 decibels.
In Germany, the horns have been banned from a number of open-air football screens, in Berlin, Dortmund or Gelsenkirchen in the west, with media printing warnings of their potential to cause hearing damage.
But on Sunday, vuvuzelas striped in the red, black and gold of the national flag, were still seen dotting streets in Germany as fans blared out their approval of their side's decisive 4-0 victory over Australia.
South African manufacturer Masincedane Sport bowed to the row over the noise levels of the horn on Monday, saying it had come up with a quieter version which will pump out 20 decibels less.
Urbas also says the German-made vuvuzela, which dismantles into three parts "so that it cannot be used in a fight" is about 20 decibels quieter than the regular South African version.
A former manager of Germany's Oberhausen second division squad, Kehrberg says he realized the business opportunity back in 2007.
Agence France-Presse
(China Daily 06/16/2010 page12)