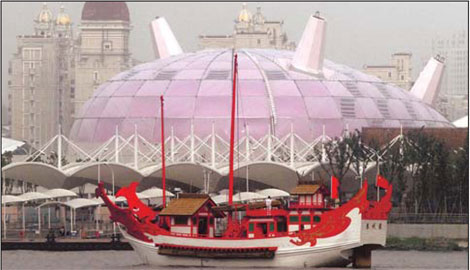 A replica of a ship that used to carry Japanese envoys to China passes by the Japan Pavilion at the Expo. Niu Yixin / China Daily
A replica of a ship that carried Japanese envoys to China during the 7th to 9th centuries makes its debut at the Expo garden in Shanghai after more than one month of sailing to highlight exchanges between China and Japan in ancient times.
The life-size replica of the vessel, with a golden phoenix design adorning its bow, is 33.6 m long and 9.2 m wide, featuring Japanese patterns and classic Japanese architecture. The original ship, also known as "Kentoshi" in Japan, sent more than 10 groups of envoys to China to learn about Chinese culture during the Tang Dynasty (618-907).
The replica ship started its journey on May 8 from Osaka, the port from where envoys in ancient Japan started the journey to China. The cruise followed the same route, passing by seven ports in Japan including Hakata and Nagasaki before arriving in Shanghai on June 11.
"Our ancestors sacrificed a lot to promote cultural exchange between China and Japan, and I regret that the new generation from the two countries are not familiar with that part of history," said Tsuguhiko Kadokawa, chairman of Kadokawa Culture Promotion Foundation.
"It is important to know that our countries maintained a good relationship in the Tang Dynasty," he said.
Kadokawa said the reconstruction plan of the vessel is a good starting point to strengthen the friendship between China and Japan.
The vessel, with a total cost of $1.32 million, was designed in Japan but assembled in Zhang Jiagang, a city in eastern China's Jiangsu province, known for its shipbuildingt industry.
The city is also the place where the famous Chinese monk Jianzhen started his voyage across the East China Sea to ancient Japan.
From 743 to 754, Jianzhen made six attempts - five of them failed - to visit Japan and help promote Buddhism in the country. He finally arrived in Japan when he was 65 years old by joining a Japanese emissary ship.
Although there has been no detailed plan on the use of the vessel after the Expo, Kadokawa said he hoped the ship would have the chance to tour around China so as to further promote the friendship between the two countries.
"I hope the vessel can visit Xi'an, which is the capital of the Tang Dynasty," said Kadokawa.
Kadokawa also said that he would corporate with the Chinese director Chen Kaige to screen a film about Japanese missions to China. Chen is a famous movie director in China and his most famous film in the West is Farewell My Concubine.
"I hope this vessel can be used as a stage prop in my new film," said Chen.
(China Daily 06/14/2010 page7)