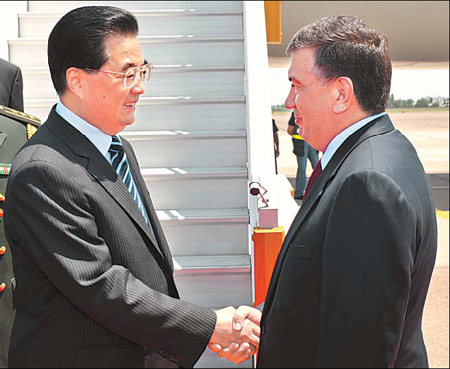 President Hu Jintao is greeted by Uzbek Prime Minister Shavkat Mirziyayev on Wednesday. Hu is on a State visit to Uzbekistan and will attend the Shanghai Cooperation Organization Summit in Tashkent, Uzbekistan. Huang Jingwen / Xinhua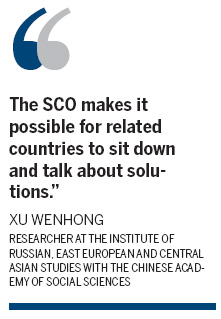 BEIJING - Expectations are running high for the upcoming Shanghai Cooperation Organization (SCO) Summit to take a tougher role in combating security threats and deepening economic cooperation among its members.
President Hu Jintao will make new proposals on increasing security and economic cooperation within the SCO framework during the summit to be held on June 10 and 11 in Tashkent, Uzbekistan, according to the Foreign Ministry.
Hu's new proposals aim to steer the SCO member countries to work pragmatically for the development of this region, to enhance political mutual trust and cooperation, and improve its ability in tackling all kinds of threats and challenges, the Foreign Ministry said.
The discussion will focus on reducing Afghan drug trafficking and restoring order in the troubled Central Asian state of Kyrgyzstan following the overthrow of President Kurmanbek Bakiyev in April, Russia-based RIA Novosti reported.
Experts believe the strongest aspect of the SCO is that it is a convenient place for dialogue on security in Central Asia and Afghanistan. Currently, the SCO has been invited to every major international event related to Afghanistan.
After the April 6 uprising in Kyrgyzstan that killed at least 88, "the SCO played its role again to decrease the tension on the borders and provide assistance to Kyrgyzstan," Leonid Moiseev, Russian President Dmitry Medvedev's special representative for SCO affairs, told Xinhua News Agency.
Facing mounting security threats, member countries are increasingly relying on the SCO for maintaining security and peace, analysts said.
"The SCO makes it possible for related countries to sit down and talk about solutions," said Xu Wenhong, a researcher at the Institute of Russian, East European and Central Asian Studies with the Chinese Academy of Social Sciences.
A regulation to accept new members into the SCO, which is expected to be adopted at this summit, will make the organization more institutionalized, which is a mark of maturity, and will consolidate its ability to tackle challenges, said Xu.
Trade cooperation will be another important topic at this summit, according to the RIA Novosti.
Sergey Tsyplakov, Russia's trade representative with the Russian Embassy in China, called for more multilateral economic and trade cooperation within this region.
"Compared with bilateral trade cooperation, multilateral trade cooperation among the six members of the SCO has lagged far behind," Tsyplakov said.
"Lots of problems exist in multilateral trade cooperation Countries in this region should summarize and analyze the ongoing cooperation programs, and seek new opportunities and projects to cooperate on among the six SCO members," Tsyplakov said.
Xinhua contributed to this story.
CHINA DAILY
(China Daily 06/10/2010 page3)