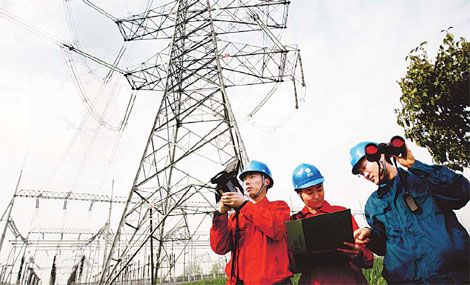 State Grid employees check equipment in Huaibei, Anhui province. Realizing the market potential of China's smart grid sector, the State Grid hopes to get a foothold in the business by acquiring electrical-equipment makers. Provided to China Daily
Domestic companies from various sectors are lining up for slice of pie
Beijing - While foreign conglomerates like General Electric (GE) and IBM are ramping up initiatives in one of the world's largest smart-grid markets, Chinese companies are also competing to get a piece of the action.
China plans to invest 4 trillion yuan ($586 million) in smart-grid construction by 2020, according to State Grid Corp, the main operator of this project. The money will be allocated to incorporating and storing power generated from wind and solar energy, monitoring power transmissions, intelligent substations, power storage, electric-vehicle charging and automatic power distribution, smart meters, and information systems for electricity utilization and intelligent dispatch.
Smart grid construction will contribute 1 percent to the growth of China's gross domestic product annually over the next five years, said Wu Jiandong, chief energy expert of the Chinese Academy of Sciences.
For example, demand for smart meters, a critical part of a smart grid, by which energy is priced at different rates, is likely to reach 240 million units, or 10 billion yuan, in five years, Wu said, indicating huge market opportunities for device manufacturers.
Shenzhen-based Clou Electronics Co, a private maker of smart meters, is one of the first direct beneficiaries of China's smart grid project. The company has won 180 million yuan worth of orders from the State Grid recently, representing over 40 percent of its revenue in 2009, according to Clou's spokeswoman.
Boosted by market demand, the company said it aims to obtain 1 billion yuan in new orders this year.
Some State-owned companies also showed an interest in the smart-meter market. China Aerospace Science & Industry Corp, the country's space and defense manufacturer, has acquired two-meter makers, Shenzhen-based Techrise Electronics and Xi'an-based Liangli Instrument.
Other companies are trying to sink their teeth in as well. Leading telecommunication's player, Huawei Technologies Co Ltd, is considering an investment in Techrise Electronics in order to get a share of the burgeoning market. Huawei is now in talks with international companies, according to Zhang Yi, vice-director of the company's corporate development department.
Pharmaceutical companies are also eying various market entry vehicles. Holley Pharm Co is splitting its pharmaceutical assets and plans to focus on instruments and equipment related to smart grid.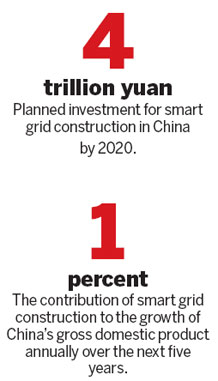 Realizing the market potential, State Grid said it also hopes to get a foothold in the equipment business. It moved into the upstream business by acquiring electrical-equipment makers Pinggao Electric and XJ Electric early this year.
"China's 4 trillion yuan investment in the smart grid sector will quickly stimulate demand for smart meters and the development of digital substations," said Li Shengmao, an industry analyst with China Investment Consulting.
Nari Technology Development, a listed unit of State Grid, is a high-tech enterprise specializing in power-systems management. Nari which boasts a 40 percent market share in substation automation - an automated monitoring system that maintains uninterrupted power services - is likely to be the largest beneficiary as the market for products and systems related to the automated monitoring will reach 8 billion yuan in five years based on the State Grid's construction plan.
Domestic players are not alone. Some industry observers have noted that giants like IBM, GE, Siemens, Cisco and Hewlett Packard are seeking roles in the large market and may have an advantage over Chinese competition when it comes to cutting-edge smart grid technologies, "particularly in system integration and monitoring", said Li of China Investment Consulting.
Chinese equipment makers plan to put up a fight for the smart-grid market. Zhan Xi, executive vice-president of Guodian Nanjing Automation Co, a Shanghai-listed equipment maker, said local companies understand domestic market conditions better than their foreign counterparts.
He also said that some Western smart-grid models are based on local power plants distribution power within a community and thus don't fit China's model of exporting electricity to cities far away.
China Daily
(China Daily 06/10/2010 page15)