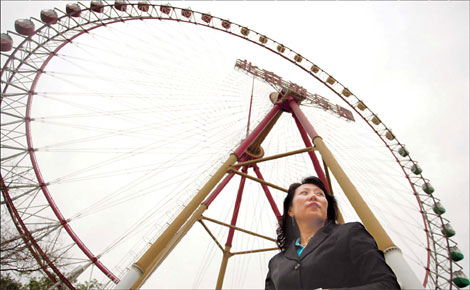 Luo Haiyan, who joined the Beijing Amusement Park 24 years ago, says her uniform alone was worth 600 yuan. Mirror Evening News / for China Daily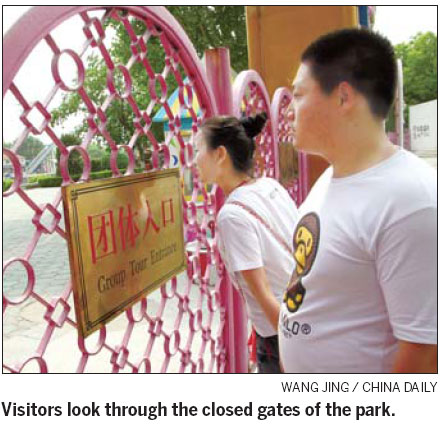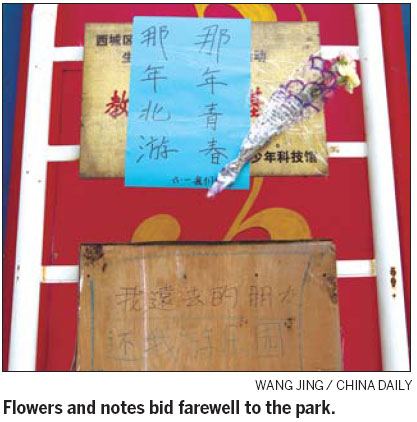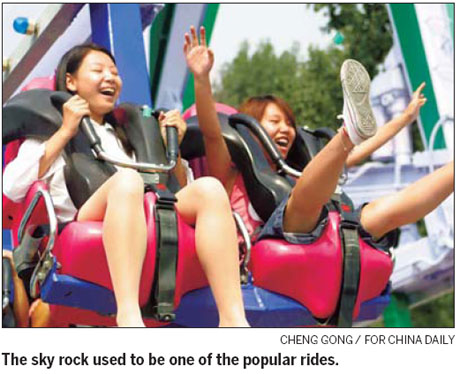 Beijingers feel a sense of loss as another landmark will soon disappear.
One day last week, Shi Yong-xiang, 22, planned to give his girlfriend a treat by taking her to the Beijing Amusement Park, a family entertainment place that's been around since 1987. But when they reached the park, in Chongwen district, they found to their bitter disappointment that the park gate was shut.
"I just don't know why they've closed the park," said Shi, an office worker.
"This is the first time I've had the chance to come to the park and I wanted to share it with my girlfriend."
The couple sat in the sun outside the gate for quite some time, not willing to leave.
On parts of the park's wall are parting words, carved by would-be visitors, who drift into the area in twos and threes. They are confronted by a guard behind a closed gate who will simply say: "It's closed."
This has been the daily scene at the park since May 12, the day park employees went on strike as rumors of its impending closure hit the street.
Since then, the park's owners decided to keep the gates shut ahead of its official closure on June 17 after 23 years' operation.
The park, the only amusement center in the downtown area, covers 530,000 sq m and has thrilled millions of Beijingers with its roller coasters, 4D cinemas and other rides.
Many are shaken that another landmark will soon disappear. For those born in the 1970s and 1980s, the park represents part of their childhood.
In a recent survey conducted by sina.com, about 50 percent of respondents said they are sad about the park's closure.
"I wish the park will not close," Wang Juan, an accountant told METRO. "I remember I liked the water ride and bumper cars the most, and we always queued between these two.
"The last time I visited the park was the year I graduated from junior middle school."
An administrative assistant surnamed Li said: "I rushed to the park early on May 16 as soon as I heard about the closure, but found the gate had already closed.
"I bet children who grew up in Beijing more or less have a thing for this park. It's where our childhood memories are."
The sales manager of the park, surnamed Huang, said the closure was due to expiry of the land-use contract.
"Investors of both sides decided not to renew the land contract," he said. He denied that poor attendance contributed to the park's closure.
Huang said the park had an average of 500,000 visitors a year, peaking at more than 1 million 10 years ago
By comparison, more than 8.5 million people have visited Beijing Happy Valley, another amusement park outside the East Fourth Ring Road that opened in 2006. Last year, the visitor number reached 2.4 million, the head of the news center at Beijing Happy Valley, surnamed Wang, said. And this is increasing every year.
The sales manager of the ticketing agency Xiaomaqiang, surnamed Wang, said ticket sales for Beijing Amusement Park had not gone well.
This year, for example, the agency sold fewer than 10 tickets a month, Wang said. For Beijing Happy Valley, the agency would sell several thousand tickets a month.
Sales figures from other ticket agencies in Beijing were not available.
A reporter in the tourism field surnamed Liu confirmed the park's poor attendance.
"When we visited Beijing Amusement Park last summer, it was so empty that you didn't have to queue for anything at all," she said.
An office worker surnamed Xing regretted she had never been to the park before: "I always felt that as I live Beijing, I could visit it at any time."
She also feels lost in the modern and busy Beijing. "There are less and less genuine old Beijing things," she said.
"Beijing is getting further and further away from the city of my childhood memories."
A freelance translator, Bai Yiyang, said people would be more relieved if the park was replaced by one such as Disneyland.
"The last thing we want to see is that it's turned to skyscrapers," she said.
Huang said the company's assets were under liquidation as its "operation period" had expired.
He said it was "hard to say" if the gates would be reopened before June 17 for people to say goodbye.
Park officials might be afraid of safety problems for visitors if too many people come in a short time, he said.
A spokesman from the commission of commerce of Chongwen district said it's not clear yet what the land will be used for.
A report in Beijing News said the land could be part of a sport industry park.
Huang said that more than 150 employees of the park would be out of work, and was optimistic about the prospects for technicians.
However, he was concerned about the future of many employees, especially service staff more than 40 years old.
"It would be hard to find another job. Some joined the park right from middle school or technical secondary school and have been working here for more than 20 years," he said.
Luo Haiyan, a 43-year-old staff member, thought she would be working for the park all her life. She joined the park in September 1986 after finishing high school.
She was supposed to work in the sports club but was transferred to the ticket office in 1987 when the gates were officially opened.
Luo remembers that while other parks' tickets looked as simple as bus tickets, "our tickets were designed by professional art company. At that time we sold 3,000 to 4,000 tickets a day."
As staff member of the first joint-venture in Chongwen district, Luo used to feel superior to others: her uniform was worth 600 yuan, a huge sum in the 1980s, and her monthly salary was more than 100 yuan. And her daughter was proud to have a mother working in the park.
"My years there have been as fast as a roller-coaster," she said.
China Daily

(China Daily 06/08/2010)