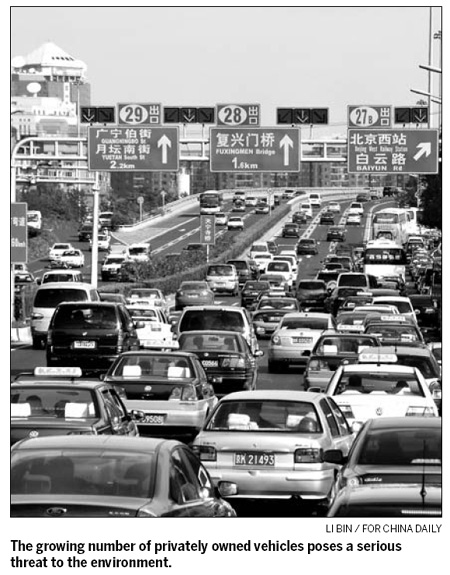 Despite an 11-year improvement in air quality, officials from the Beijing municipal environmental protection bureau said the chain might be broken this year because of a booming economy and mounting numbers of cars.
In the recently-released Beijing Environmental Statement 2009, last year's eco-environment was rated "good" by the city's environmental protection bureau.
Statistics from the bureau show the city had a record 285 blue-sky days, about 78 percent of the whole year, which is 11 days more than in 2008.
The report also noted that emissions of major air pollutants were decreasing, with SO2 down by 3.59 percent compared with 2008. And the water quality in rivers, lakes and reservoirs had also slightly improved.
Xu Qing, deputy director of the bureau, said the report shows a set of accomplishments that need to be considered in tandem with a GDP increase of 10.1 percent in the local economy.
"The regional product expenditure per person exceeded $10,000 last year. The population in Beijing hit 17.55 million and the number of cars exceeded four million," he said, in a press conference on Friday, adding proudly that the environment has been improving since the Beijing Olympic Games.
However, the city's air quality was ranked 28 out of 31 provincial capitals and municipalities nationwide last year, according to the annual report on environment development of China.
The percentage of inhalable particles is 21 percent higher than the national grade II urban air quality standard, with the frequency of acid rain even greater, at 25 percent higher on average.
Officials from the environmental protection bureau said they will be under tremendous pressure this year.
Wang Dawei, director of the atmospheric division of the Beijing municipal environmental protection bureau, said more energy has been consumed by factories since the second half of last year, resulting in more pollutants in the air.
In addition to these industrial pollutants, waste from daily life - especially emissions from vehicles - is a major concern of the bureau.
Wang estimated the total number of cars in Beijing could hit five million by the end of 2010, with a growing number of privately owned vehicles causing massive challenges to his division.
"We are trying to devise solutions. We will try to remove heavily polluting vehicles from the streets and might expand the no-car-day ban," Wang told METRO.
The policy blocks certain license plate numbers from entering urban areas every five days. Wang's division is considering banning two license plate numbers every five days.
He said this year's blue-sky target is 73 percent.
"That would equate to seven fewer blue sky days than last year," Wang said noting he was not optimistic about this year's air quality.
Zhang Shiqiu, director of the environment and economy institute with Peking University, said the source of pollution in Beijing has changed its source from industries to household garbage.
According to statistics, as many as 30 percent of nitrogen oxides, the cause of acid rain, are produced by car emissions in China.
"But the number in Beijing is definitely more than 30 percent," she said, adding it is time to raise public awareness of environmental protection and encourage a reduced use of private vehicles.
Jiang Kejun, director of the energy research institute with the National Development and Reform Commission, echoed the concern.
He said because Chinese people are getting rich quickly, controlling the number of vehicles is a big problem for the government.
Jiang said though the government has initiated a series of countermeasures, which include car bans, it still has a long way to go.
According to his research, car ownership is triggered by the income status of a family, a level that is annually increasing. He estimated that by 2030, the total number of vehicles in China could top 400 million.
"It is too late to control the number by increasing parking fees. The increase in people's income is much faster than their ability to use their minds," he added.
Jiang said while European countries are offering more street space for cyclists, Beijing is doing the complete opposite.
CHINA DAILY
(China Daily 06/07/2010 page28)