The Mauritania Pavilion, with its traditional art and city exhibitions, at the Joint Africa Pavilion in the Expo Garden has become a popular place for visitors to experience life and the changes happening in Africa.
Themed "Paradox Between Ancient and Modern Cities of Mauritania", the pavilion was designed to showcase two different kinds of cities: the ancient cities in the country's desert regions under UNESCO World Heritage Site protection, and the modern cities, like Nouakchott, the country's capital.
Models of ancient desert cities, along with Nouakchott, are found in the pavilion, so visitors can see the changes in the country.
"The pavilion is an ideal place to demonstrate how we maintain a balance between modern city construction and heritage protection," said Bamba Ould Daramane, minister of Trade, Handicrafts and Tourism.
The country has been involved in World Expos since 1967 and participants from Mauritania think the exhibition is a good opportunity to promote international trade and tourism.
"The exhibition will not only help to show the culture and history of Mauritania, but also show that it is a desirable travel destination," said Daramane. "We are also keen to have more Chinese investors to set up businesses in Mauritania."
Visitors to the pavilion can have intricate Mauritanian henna tattoos drawn on their hands. This kind of skin decoration is common for special occasions in Mauritania, including weddings.
"The decorations represent happiness, love and good luck in Mauritania," said Bah Ould Saleck, a senior consultant at the Mauritania Pavilion. "It is only used on women."
For 30 yuan, visitors choose from one of 10 patterns. The temporary skin paintings will stay on the hands for about 10 days.
"We are surprised by the scale of this exhibition," said Daramane. "The exhibition makes me feel like I'm in Africa and everything that happens here is a reflection of real life in Africa."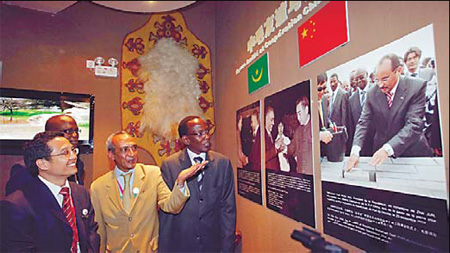 (Top and Above) Bamba Ould Daramane, a Mauritania government minister, with Chen Jingtian, director of the Administrative Department of the Joint Africa Pavilion of Expo 2010 Shanghai. The Mauritania Pavilion (Blow).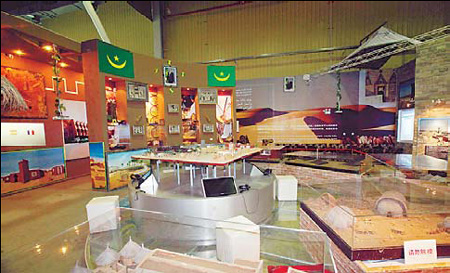 (China Daily 06/04/2010 page38)