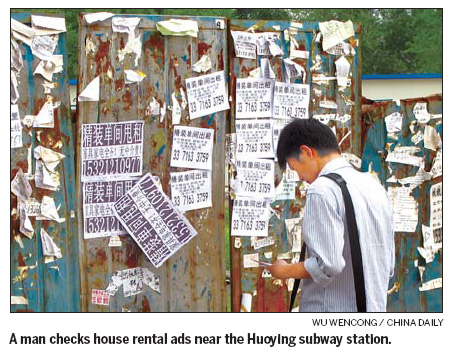 The large "ant tribe" population has found itself new "ant hills" in Beijing as Tangjialing, the once famous "anthill" located in Haidian district, northwest Beijing, is said to be facing demolitions.
The term "ant-tribe" refers to the masses of lowly paid recent college graduates without Beijing hukou, or household registration. They reside in slum-like dwellings but strive to build careers in the city.
The new "anthills" include rooms in Huilongguan, Huoying, Xisanqi and Tiantongyuan, all areas of the rural-urban fringe zone along subway Line 13.
Xu Hui, 26, came to work in Beijing four years ago with his girlfriend after graduating from college. They now pay 800 yuan per month for a 15-sq-m room near the Huoying subway station.
"We share a bathroom with three other people who live in the other two rooms," Xu said. "15 sq m is a pretty small space for two people, and it is not convenient for couples to live with others. But we want to save money for our own home."
Their current home is only four subway stops from their companies in Shangdi. The location was the most attractive feature when Xu rented the place.
"Shared accommondations existed in Huoying for a few years but have only prevailed in the past one or two years," an agent with a well-known real estate agency who requested anonymity told the Beijing Evening News.
"Some of the tenants moved in from Tangjialing in March and April."
"Most of the tenants here are in similar situations, and my condition is definitely not the worst," Xu said. "Some of the landlords redesign three-room apartments into five rooms in hopes of getting more rent."
Xu smiled bitterly when asked about the term "ant-tribe". He said he and his girlfriend plan to hold out here for another one or two years, driven by dreams of a more spacious abode of their own.
"Who would want to live in shared accommodations if not for the sake of saving money?" Xu told METRO.
Just outside the Huoying subway station, a 100-m-long wall occupied fully with pasted advertisements for shared accommodations might come as a shock to those passing by for the first time.
Around the subway station, more advertisements can be seen on bus stop boards, handrails and poles alongside the road. Even the tiles on the ground have not escaped the posters.
"Don't bother to contact the owner of the apartment with the information on the advertisements, because they were all pasted by real estate agents," said Chen Xin, a consultant from the Xinchengzhuoyue Real Estate Agent Co.
Chen said his company doesn't charge commissions to apartment owners; instead, it works as sublessors and makes money from the price differences.
"We can earn 200 yuan from one room per month," Chen said. He could not tell the precise number of rooms the company had on lease because there are too many.
According to Chen, 90 percent of the neighborhood tenants are white-collar workers in Zhongguancun who aren't picky about their accommodations.
China Daily
(China Daily 06/02/2010 page25)