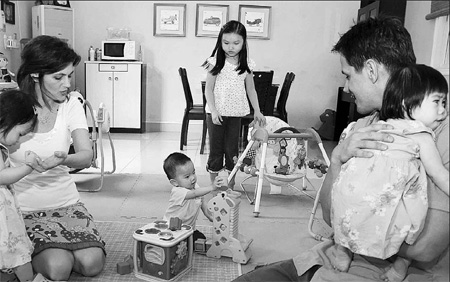 Deena Mary VantHul (second left) and Mike VantHul (right), a couple from the US, play with disabled children they adopted at their foster home in Fuzhou. Zhu Xingxin / China Daily
Couple from US devote lives to needy Chinese children
Fuzhou - It is 9 am and nine children are attending a lesson. The classroom is decorated with alphabets and toys. A teacher plays an organ and sings an English song.
It looks like the scene of a typical pre-school class in the United States.
But this is in China.
The children also seem a little more different from others with a closer look - a number of them have cleft lips and oblique eye fissures. A few of them move with some difficulty.
All of them are also extremely happy.
"Mama, mama!" 9-year-old Anhu says excitedly as he spots a woman entering the room.
Anhu struggles to move his legs with the use of walking aids to reach the woman.
"Come on, Anhu! Good boy! You can do this!" 40-year-old Deena says as she opens her arms and carefully watches how the boy moves his legs. Her husband, 42-year-old Mike, closely follows the boy's steps in case he tumbles.
"You know what, he is doing very good now," Deena says and embraces Anhu as he finally reaches her.
"When we first got him, he suffered a lot from cerebral palsy and the doctor said he could never walk," Deena says.
Piles of children's clothes lie in the laundry room. A cook prepares rice, vegetables and meat in the kitchen, cutting all the things very finely so that children with swallowing difficulties can eat them. Deena and Mike walk into every room and check if their "children" are doing well.
Their children suffer from cerebral palsy, Down syndrome, or autism. Some can never see or stand by themselves and some are born without fingers.
Five years ago, Deena Mary VantHul and Mike VantHul, a couple from Florida, sold all their belongings in the US and started this foster home in Fuzhou, Fujian province. With the approval and support from a Fuzhou children's welfare home, they have taken care of more than 50 disabled orphans.
Before that, they were like an ordinary American family - with two sons, decent jobs, good incomes, a house in Florida and two cars.
"Mike and I traveled a lot in the world and saw many children without parents. Our hearts were very moved," Deena said.
The two pious Christians prayed that every child would have a mother and father that love them. They adopted a Chinese girl in 2004.
Eight months later, they decided to give up everything in the US and come to China, with $60,000 earned from selling all their belongings, to help the children here without parents.
"We came from the southern part of the US, so we found the climate here rather similar and we met a local man who helped us with housing," Deena said.
As soon as they arrived, they began as volunteers with the Fuzhou orphanage, helping children to find a foster home. However, they soon found it difficult for some children.
"Some children with the most serious problems may never find foster families. So we thought, maybe we can do that," Deena said.
Deena, previously a speech language pathologist, and Mike, a former banker, later became full-time babysitters.
But it seemed much more demanding than their previous jobs.
"I remembered there were many months where we had little sleep at first," Mike said. With only one babysitter and one couple helping them, Mike and Deena had to look after eight disabled babies.
Every night and every hour, the babies needed to be fed and have their diapers. Babies would wake up and cry one after another.
"Sometimes I cried. I didn't feel very strong and was not sure if I had so much love to give away day and night," Deena said.
But they made it. They bought a house in suburban Fuzhou in November 2005 and converted it into a cozy home with bright sunshine, green plants, lovely toys and children's laughter.
With the help of 19 babysitters, they are now taking care of 34 children, including their own three children. Thirteen children have left after being adopted by American families. A Chinese family also adopted one child.
"You know what, the most difficult things are the most rewarding. Taking care and helping children is not a burden to us and we feel so much love, joy and peace," Deena said.
She still clearly remembered the first lip surgery she went through with a 6-month-old baby.
"The doctor gave her to me she was so little and in tremendous pain I really believe every baby needs a mom when she is sick, so at that time I was extremely thankful that I was allowed to do it," she said.
The couple said they plan to do the job forever and they will never send the most seriously disabled children back if no one adopts them.
"We will just try to make this house bigger," Deena said.
The couple have spent all the money they brought to China in the first year. They now rely on a foundation from the US and donations from across China and all over the world to operate the foster home, which costs 60,000 yuan ($8,800) a month.
It can be tough going, but they believe that "pure love is to love someone who can never repay you".
China Daily
(China Daily 06/02/2010 page2)