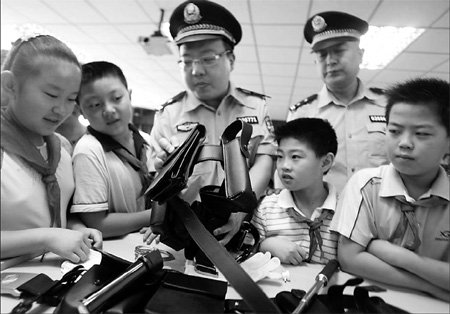 Chongwen police invite a group of primary students to visit their bureau on Monday. zhang yujun / for China Daily
Heightened security, scores of events in store for youngsters in the capital
With thoughts of recent school tragedies and killing sprees on the minds of organizers, security for this year's International Children's Day festivities on June 1 will be tighter than ever.
The day will be marked by many events, with the main one being a garden party at Beijing Working People's Culture Palace.
According to the International Children's Day Celebration Committee, there will be eight groups of 16 security guards taking care of the entrances and exits to the venue.
"We will refer to the security check standards of the Olympic Games and National Day," said Huang Keying, vice-general secretary of the organizing committee.
Experts have also examined electric facilities, ladders, pit covers, sharp angles and other potential hazards in order to eliminate dangers.
The garden party this year will center on a main area and will have six themed spaces with names including "Happy Life Encyclopedia" and "My Life My Rules".
The themed areas will boast more than 100 activities for children that will both entertain and educate.
"In 'Happy Life Encyclopedia', for example, children can learn medical knowledge. In other areas, they can become traffic policemen or join the volunteer team," said Huang.
In "Young Hero", a group of primary school students who have been excelling in certain fields, including environment protection and technical invention, will share their experiences with other children.
Children from Beijing Welfare House, SOS Children Village, Qinghai earthquake area and schools for the children of migrant workers have also been invited to participate in the garden party.
The committee will limit the number of participants to 7,000 at any one time to avoid possible accidents from overcrowding.
As many as 600 trained volunteers will patrol the garden party to keep an eye on things.
According to many primary schools and kindergartens, several celebrations for International Children's Day have been canceled or scaled back this year due to safety concerns.
Beijing No 1 Kindergarten, for example, canceled a large-scale performance it had planned to stage and which it had rehearsed several times.
Other schools, including Shijia Primary School, switched their original plans and decided to hold smaller indoor activities, such as charity sales and art exhibitions.
At Fengtai Experimental Kindergarten, only a small group of parents selected after they drew lots will be allowed to participate in the celebration activity, according to Peng Junjuan, manager of the kindergarten.
China Daily
(China Daily 06/01/2010 page26)