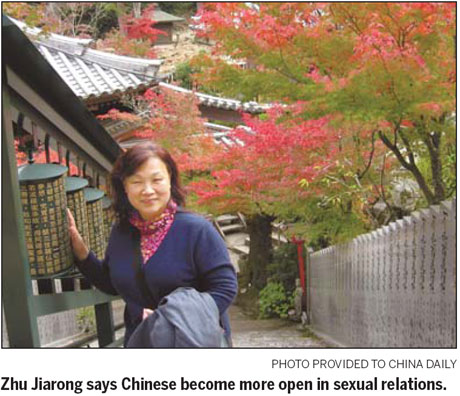 Twelve years ago, when scholar Zhu Jiarong was asked to translate A Lost Paradise, by Japanese writer Junichi Watanabe, into Chinese, she refused unless the publisher would agree to her terms: delete its explicit sexual content.
"This was my first translation of a novel. As a college teacher, translating a novel full of erotic content would be my last choice. I would feel so embarrassed to see my students in class," Zhu told METRO.
Thanks to the prevailing attitude in China then, the publisher agreed, and Zhu, a scholar and translator of Japanese literature with the University of International Relations, worked to "purify" the novel.
Today, there's a new Chinese version of A Lost Paradise, with Zhu again the translator, but with all the sex scenes reinstated. This version was launched by the Writers' Publishing House in Beijing last month.
Zhu said that along with the social changes, Chinese people have become more open and acceptable in terms of sexual relations, and it is natural for the novel to be reprinted now. When the publisher asked her to do the new version, she readily accepted.
"Many issues facing Japan more than a decade ago have occurred in China, especially in big cities such as Beijing, and no one is now likely to make a fuss," said Zhu, who has translated dozens of Japanese works into Chinese.
When A Lost Paradise was first published in Japan in 1997, it became a hit and sold as many as three million copies and was made into a TV series and a movie. But success in China was limited.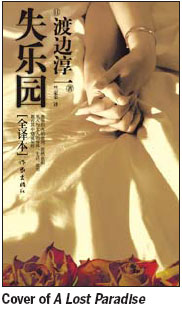 At the start of the 1990s, many foreign books were being translated into Chinese, but novels such as A Lost Paradise with its strong sexual content were few and would not be published unless the erotic scenes were taken out.
Chinese people then had a shy and conservative attitude toward sex and erotic books, with writers and translators giving the topic a wide berth.
But now the taboos are beginning to thaw and a growing number of titles with erotic themes have now been published.
A Lost Paradise, centering on extra-marital love and sex between a middle-aged publisher and his much younger mistress, both unhappily married to other people, brims with detailed sexual descriptions based on the author's experience.
The couple, tired of the hustle and bustle of daily life and the routine of drab love, eventually kill themselves to search for an eternity of endless love.
Zhu said in Japan in 1997, the average Japanese was living in material abundance, but mentally speaking, lacked sustenance in love, especially in terms of sex.
"What the novel depicts appears fresh and outlandish to the Chinese a decade ago. Now it is quite another case, and the content of the novel echoes with a growing number of people in China," Zhu said.
Watanabe said the large amount of sexual depictions was not there to seduce the readers with sensual pleasure, but "to tell them the horrors of sex, which would result in death in the highest achievement".
While sex scenes were cut out in the first Chinese edition, the novel still resonated among Chinese readers for its bold approval of extra-marital love.The publisher said only the complete translation can reflect Watanabe's creative intentions and his unique observations on the sexual relations of modern people.
The latest version of A Lost Paradise has sold well since hitting the shelves a month ago and, following the positive responses, a Chinese TV series based on the novel is going to be produced soon, the publishing house said.
China Daily
(China Daily 05/31/2010 page38)