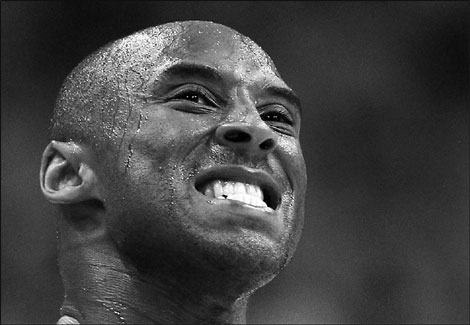 Los Angeles Lakers guard Kobe Bryant celebrates after making a basket against the Phoenix Suns during Game 6 of the NBA Western Conference finals in Phoenix, Arizona, on Saturday. The Lakers won 111-103 to advance to the NBA finals. Lucy Nicholson/ Reuters
Bryant and his Lakers are in the NBA finals for the third straight season
PHOENIX - Kobe Bryant is again showing the world what postseason greatness can be.
Bryant and his Los Angeles Lakers are in the NBA finals for the third straight season after he wrapped up a magnificent Western Conference finals with a 37-point performance in a series-clinching 111-103 victory over the Phoenix Suns on Saturday night.
"Kobe's so good, " teammate Lamar Odom said, "he makes incredible normal for us."
Ron Artest added 25 points as the Lakers held off a late Phoenix rally to win the series 4-2.
The Lakers and Celtics, the NBA's premier teams for much of the league's history, will meet in the finals for the 12th time with Game 1 on Thursday night in Los Angeles. They are the NBA champions each of the past two years - Boston beat the Lakers two years ago and Los Angeles topped Orlando last season.
"We'll see how much we matured," Bryant said. "They challenged us extremely well in the finals a couple years ago. Now is a chance to see how much we've grown."
Bryant scored nine points in the final 2 minutes, including what looked like an impossible 23-footer with Grant Hill in his face and 34 seconds to play. The basket put Los Angeles up 107-100 and the scrappy Suns were finished.
"Those aren't shooters shots, they're scorers shots," Phoenix's Steve Nash said. "Those are best-player-in-the-game type shots."
Bryant will be in his seventh NBA finals in search of his fifth championship - five more than regular season MVP LeBron James, who can only sit and watch.
Amare Stoudemire, in what may have been his last game with the Suns, scored 27 points but struggled to a 7-of-20 shooting night. He can opt out of the final year of his contract and has said chances are "50-50" he will play elsewhere next season.
"I'm not sure what the future holds right now," he said, "so I'm just going to take a couple of days, enjoy the family and enjoy the rest and start figuring out the next move."
Nash, who had promised his team would win Game 6 after its near-miss in Game 5, added 21 points and nine assists in his 118th playoff game, the most for anyone who has never reached the finals. The 36-year-old point guard praised his team, which at the season's start was expected to be fortunate to even make the playoffs.
"You might say we overachieved," he said, "but we are a good team".
Bryant, with his 10th 30-point performance in his last 11 postseason games, moved ahead of Jerry West and into a tie with Kareem Abdul-Jabbar for second-most 30-point playoff games at 75. He has a ways to go for the record of 109 held by Michael Jordan.
Bryant also extended his NBA record to eight straight 30-point closeout games on the road.
"I always thought he was the best player in basketball," Phoenix coach Alvin Gentry said.
Lakers coach Phil Jackson will be in search of his 11th NBA championship, fifth with the Lakers.
"Kobe was the man tonight," he said.
Associated Press
(China Daily 05/31/2010 page23)