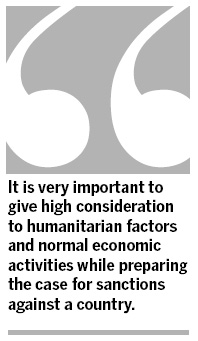 The international community should let Teheran go ahead with its nuclear program for civilian use
The recent tripartite agreement on nuclear-material swapping among Iran, Turkey and Brazil shows that influential countries other than major Western powers have started helping resolve sensitive global issues.
Such efforts should be applauded and encouraged, especially because last year, US President Barack Obama said that instead of depending on America alone, other countries, too, should try and resolve world issues.
Before the tripartite agreement was signed, the UN Security Council was expected to adopt a resolution imposing fresh sanctions on Iran for refusing to swap its low-enriched uranium with another country.
Now, Iran has agreed on the location, time and amount of low-enriched uranium to be swapped and has submitted the list of provisions to the International Atomic Energy Agency (IAEA), although it does not fully conform to the Geneva-based agency's conditions.
Since the situation has changed, pre-planned punitive actions, too, should be altered accordingly, meaning there is no longer any rationality in imposing further sanctions on Iran.
Moreover, since Iran is party to the Treaty on the Non-Proliferation of Nuclear Weapons (NPT) and is legally entitled to peaceful use of nuclear power, it is preposterous to say that it should not process nuclear materials to generate electricity.
The IAEA has carried out many (4,500 time/person) normal and sudden inspections on Iranian nuclear installations - possibly the highest number on an NPT signatory state, and said their status was "not away from the normal track". As long as IAEA verifies that Iran's nuclear activities as safe and gets the country's cooperation, further sanctions are unnecessary.
As media reports said, US and Russian leaders had hinted that the participation of Brazilian President Luiz Inacio Lula da Silva in the Non-Alignment Movement summit in Teheran on May 17 was the last chance for Iran to avoid fresh UN sanctions.
The tripartite nuclear deal was reached after strenuous efforts, and Iran earnestly hopes it would help it to avoid further sanctions. So high is Iran's hope that it has threatened to scrap the deal and go it alone if the UN Security Council still goes ahead with its plan to impose fresh sanctions.
Sanctions against a country prove useful only when they are imposed timely and properly. But generally speaking, they have not proved to be of much use in most of the cases till now. Instead, they have usually fanned confrontational emotions and hatred, and made matters more complicated.
That's why it is very important to give high consideration to humanitarian factors and normal economic activities while preparing the case for sanctions against a country. After all, the disastrous effects of sanctions fall squarely on the common people of the target country.
Sanctions, actually, are a way of dragging a country to the talks' table. Hence, they should not be imposed randomly.
Non-proliferation of weapons of mass destruction and blocking their channels of delivery is our common objective, but we should achieve it through justice, legality, equality and rationality.
Mutual trust should be the basis for resolving all major international issues, and ideological bias and double standards should be avoided. As a saying goes, "if you want a friend, he may not be there; if you want to make an enemy, he will appear."
As for the Iranian nuclear issue, it can be settled only through dialogue, interaction and cooperation, and hence the UN Security Council should not impose fresh sanctions against the country, because it may only succeed in causing suffering to the Iranian people.
The author is deputy secretary general of China Arms Control and Disarmament Association.
(China Daily 05/29/2010 page5)