Youngest Qomolangma climber hopes to inspire kids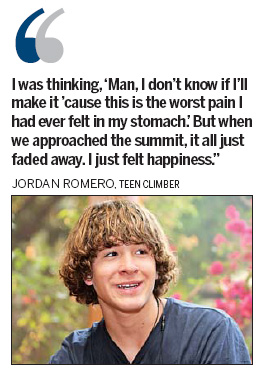 An eighth-grader from California who became the youngest climber to reach the top of Mount Qomolangma said this week he hopes his achievement will encourage young people worldwide to dream big.
"I'm doing this to inspire other kids, hopefully across the world, to get outdoors and to set goals in life. I'm doing this to set an example for them," said 13-year-old Jordan Romero in an interview by satellite phone from the 21,320-foot (6,500-meter) Advanced Base Camp where his team had returned after reaching the top on Saturday.
"The record is one thing but standing on top of the world is just the best feeling you could ever imagine," he said.

Today's Top News
Editor's picks
Most Viewed