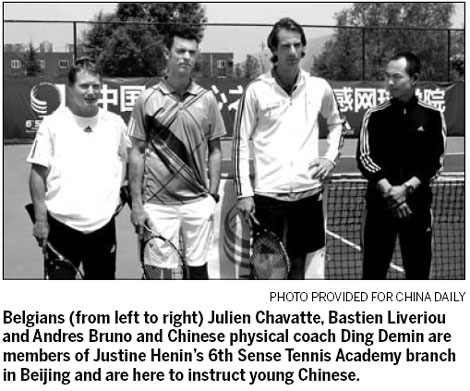 BEIJING - Some of the best coaches from Justine Henin's 6th Sense Tennis Academy have joined Potter's Wheel International Tennis Center in Beijing as part of the co-operation between the organizations.
"We are coming here to work with the Chinese coaches to help lift the kids' levels over the next few years," said Andres Bruno, who has been in Beijing for 10 days with two other compatriots and will stay for six years.
Bruno is the director of the professional department of the 6th Sense Tennis Academy in Beijing and has worked with ATP players Juan Carlos Ferrero and Guillermo Garcia Lopez.
The Belgians have already been impressed by the facilities and the passion of the Chinese children.
"We will try our best. We had a very good feeling and impression about the facilities and also the kids' skills, passion and mentality. I'm sure they will adapt to our concept of coaching," Bruno said.
The coaches are currently busy with a recruitment program from which they will select 20 promising juniors above the age of 10 for full-time training.
Physical conditioning will be one of the coaching team's major concerns.
Henin, the former world No 1 and a seven-time Grand Slam winner, provides a great example for Chinese youngsters as, at 167cm and 57kg, she is smaller and thinner than the average top pro but by strengthening her body, and her backhand and serve, she became the best female player in the world.
"We will try to assess different things from these students (to choose the best)," said Julien Chavatte, head coach of the 6th Sense Beijing Academy. "Their mentality, attitude and work ethic every day are all very important."
The Belgians are also looking for Chinese coaches to give them a hand.
"We have coach recruitment days and we hope Chinese coaches will become part of the 6th Sense team," said Bruno.
"It's also a unique opportunity for the Chinese to discover and explore the educational coaches' program which implements the training methodology and philosophy of Carlos Rodriguez (the world famous coach of Henin)," he said.
Henin opened the 6th Sense branch at Potter's Wheel International Tennis Center in Beijing earlier this year. It joins her original academy in Belgium and her US academy at the Mission Inn Resort & Club, which is north of Orlando, Florida.
"Here we have the world-class facilities including 14 outside hardcourts, five inside courts, six mini-courts and two Euro's A level claycourts," said Ding Ding, president of Potter's Wheel. "I'm confident China's future Henin will grow up from this place."
China Daily
(China Daily 05/20/2010 page23)