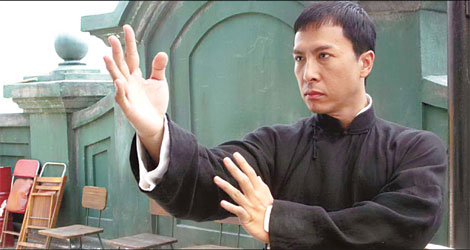 Hong Kong kungfu star Donnie Yen stars in Ip Man 2, a sequel to the 2008 biopic of the kungfu master. File Photos
Ip Man 2 was a winner in the box office contest against the Hollywood superhero, suggesting local films are becoming relatively more popular. Liu Wei reports
The hero of Ip Man 2, a sequel to the 2008 biopic of the kungfu master, faces up to a Western boxer and knocks him out. Off screen, it is a similar story.
Ip Man 2, which premiered on April 27 in the mainland, raked in 100 million yuan ($14.7 million) in the first week; while Iron Man 2, which hit theaters on May 7, earned 60 million yuan up to May 13.
In Hong Kong, Iron Man 2 was released one day after Ip Man 2. So far Ip Man 2 has pulled in 28 million yuan, 7 million yuan more than Iron Man 2.
It is rare for a local production to give a Hollywood blockbuster a run for its money, said Ip Man star Donnie Yen at a party to celebrate the film's success last week.
"For a long time Hollywood blockbusters beat our films, now Ip Man has won back some dignity," Yen says.
At the party, director Wilson Yip promised that if the film made more than 300 million yuan he would shoot Ip Man 3.
"Ip Man plays a good card of patriotism," says film critic Yu Xin, about its box office success.
He refers to the final 15 minutes of intense fighting between Ip and a Western boxer named Twister. Ip's triumph over the arrogant boxer has frequently led to applause in domestic theaters.
"Since 1840 (the year of the Opium Wars and prelude to a century-long stagnation in China), battles with Western countries have wounded Chinese people's hearts. And martial arts, a national treasure, have been widely used as an outlet for nationalism," Yu says.
"The plot of beating foreigners using Chinese kungfu has been a clich in action films. In Ip Man 1 the Japanese were hit, in 2 Europeans are battered, so in 3 who you can hit? Americans, or Na'vis?"
Critic Zhang Boqing, however, disagrees with this assessment.
"It's over-thinking a commercial film. If an entertainment flick raises viewers' emotions and throws them into the plot, it succeeds."
Also, it should be added, Iron Man 2 suffered because it was leaked online.
Paramount and Marvel released the film in some foreign markets around a week before its May 7 release in the United States, which resulted in online camcorder versions by May 3.
Though it is hard to say how much this affected its box office takings here, it can be assumed they were dented.
Also, Ip Man's release date was better. It was launched to coincide with the May 1-3 holiday and there was no strong rival. Iron Man was postponed to May 7.
Another factor is that the second incarnation of the Marvel comic creation was not up to the first flick.
"The sequel is too much talk and too little surprise," says Huang Qunfei, general manager of theater chain New Film Association Company. "There is no fresh feeling to the plot or special effects. The original film was like, bang! so special and new. But there is no breakthrough in the second."
During Iron Man 2's premiere week, Huang's theaters gave the two films almost the same number of screens, but because of Ip Man's rising popularity, he is thinking of giving the local action movie greater priority.
In Huang's opinion, it is difficult for Iron Man 2 to catch up at the box office.
"Chinese viewers are less obsessed with Hollywood blockbusters than before. Finally, it is the film's quality that matters. With a good story, local films are likely to win more favor among audiences," he says.
Iron Man 1 had a theatrical release in China for about five weeks after April 30 in 2008, grossing 100 million yuan. The strongest rival was the China-US co-production Forbidden Kingdom. With Jet Li and Jackie Chan starring, the film was screened one week longer than Iron Man and the final gross was 190 million yuan.
Hardcore fans of the Marvel hero, however, stick to their choice.
"I have heard that the sequel is not as remarkable as the first offering, but to me, it is still a must to watch," says Ma Xiaohui who works in an accounting firm. "Downey's star aura is still there. And the special effects are far better than in most domestic films."
Last year China's box office takings reached a record 6.2 billion yuan ($908 million), 56.6 percent of which was created by domestic films - though it should be added China only shows 20 foreign films a year.
China's film bureau expects takings to rise to 10 billion yuan this year.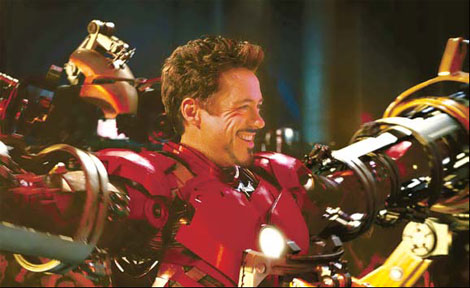 A scene from Hollywood blockbuster Iron Man 2, released at the same period of time with Ip Man 2.
(China Daily 05/18/2010 page18)